Trump: Russia and China 'rival powers' in new security plan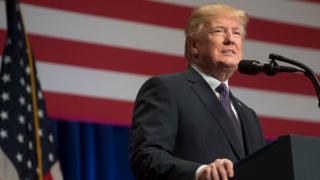 US President Donald Trump has outlined his new national security strategy, labelling China and Russia the primary threats to US economic dominance.
His speech – which was based on his platform of "America First" – attacked the "failures" of past foreign policy.
He criticised Pakistan and North Korea, and how previous administrations approached other world powers.
Referring to his election victory, he told audiences that in 2016 voters chose to "Make America Great Again".
Mr Trump described "four pillars" to his new National Security Strategy, but made no mention of human rights or climate change, his critics noted.
The four themes are protecting the homeland, promoting American prosperity, demonstrating peace through strength and advancing American influence.
The 68-page document, which White House officials began work on 11 months ago, suggests a return to Mr Trump's campaign promises.
It explicitly states that "the United States will no longer turn a blind eye to violations, cheating or economic aggression".
The US faces a new era of competition, the US president told his audience at the Ronald Reagan Building in Washington.
Russia and China are "rival powers", he said, but the US must attempt to build a "great partnership with them".
The document itself, published before the speech, used harsher language to criticise China and Russia, calling them "revisionist powers".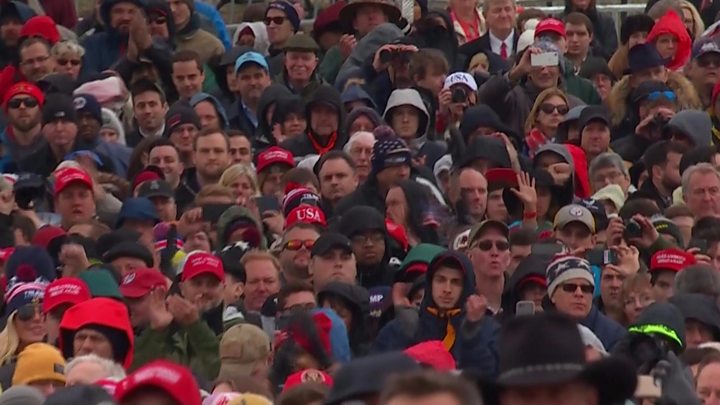 Mr Trump also pointed to cyber-hacking as an emerging threat and criticised North Korea, Pakistan, and the Iran nuclear deal.
The new policy stresses economic security but does not recognise climate change as a national security threat.
His predecessor Barack Obama in 2015 declared climate change an "urgent and growing threat to our national security".