Trump: Nato states to increase defence funding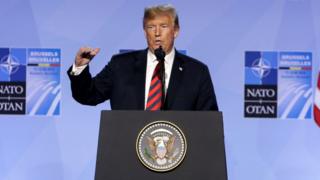 US President Donald Trump says Nato countries have agreed to increase their military spending.
Speaking after a two-day summit in Brussels, he said allies had committed to spending more than 2% of their annual output (GDP) on defence budgets.
The president has been highly critical of the alliance, complaining the US pays more than others.
After the meeting, he said he believed in Nato and it was "presently unnecessary" to consider quitting it.
"We made a tremendous amount of progress today," he said. "It has been really amazing to see the level of spirit in that room."
Mr Trump has previously urged Nato allies to commit at least 4% of their annual output (GDP).
He said Nato chief Jens Stoltenberg had given "total credit" to him for the increased spending, which he said he instigated during his first Nato meeting last year.
Mr Stoltenberg has yet to speak.
In a separate briefing, German Chancellor Angela Merkel said there was a clear commitment to Nato from all attendees.
There had been concern that President Trump might leave the alliance. But Nato sources, speaking to Reuters, said he had denied making such a threat.
Mr Trump's early-morning tweets from Brussels had been typically critical.
The US leader has specifically singled out Germany for criticism over its defence spending.
He has also accused the country of being held prisoner to imported Russian energy, saying it is "totally controlled" by Moscow.
President Trump's next stop after Belgium is the UK, where he will arrive early in the afternoon to begin a two-day working visit, which is expected to spark public protests.