Trump in Saudi Arabia: Key deals expected to be signed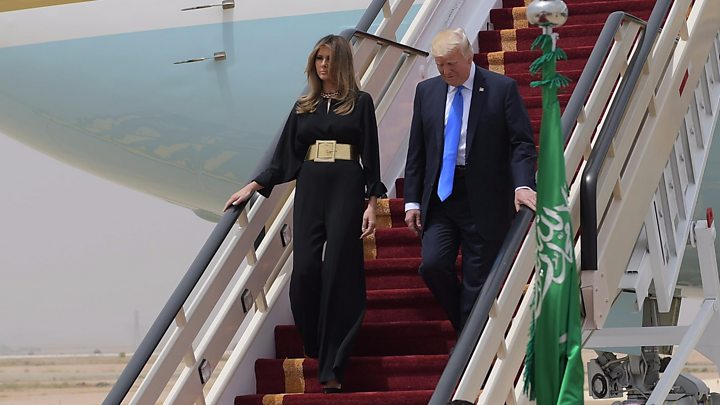 Multi-billion dollar deals between the US and Saudi Arabia will be signed on Saturday as US President Donald Trump's first foreign trip begins in Riyadh.
Mr Trump and his wife Melania were greeted in the Saudi capital by King Salman on Saturday morning local time.
The eight-day trip will also take in Israel, the Palestinian territories, Brussels, the Vatican, and Sicily.
Saturday's deals on arms and with energy giant Aramco are expected to be worth at least $150bn (£115bn).
The visit comes as Mr Trump faces uproar at home following his sacking of FBI director James Comey.
On Sunday, Mr Trump will attend the Arab Islamic American Summit in Riyadh and speak about his "hopes of a peaceful vision of Islam". Aides say the president hopes his speech will resonate worldwide and express "a common vision of peace, progress and prosperity".
Mr Trump caused controversy during his campaign by calling for Muslims to be temporarily banned from entering the US over security concerns. Legislation aimed at restricting travel from several Muslim-majority countries remains tied up in the US courts.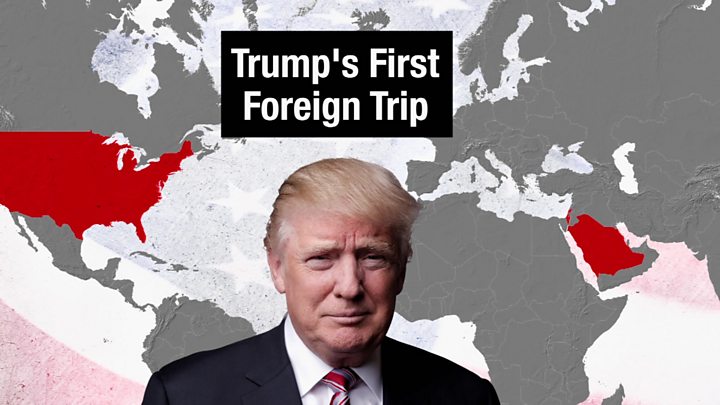 The summit agenda is expected to focus on combating Islamist militants and the growing regional influence of Iran.
Mr Trump has been a fierce critic of the international deal with Iran which eased sanctions in return for a curb on its nuclear activities.
Unlike his predecessor, Barack Obama, he is not expected to highlight human rights during his trip.
On Saturday morning, Amin Nasser, the chief executive of Saudi oil giant Aramco, said $50bn (£38bn) of deals would be signed with 11 US companies. The deal is part of a wider drive to diversify the Saudi economy away from oil.
Separately, US media say Saudi Arabia will commit to buying about $100bn of US-made arms.
Saudi Arabia has been fighting Houthi rebels in neighbouring Yemen since March 2015. The United Nations says about 10,000 people have been killed since the fighting began, with Yemen on the verge of famine.
---
'Turning page on Obama' – by Lyse Doucet, Chief International Correspondent, BBC News
"We want you to be a superpower" is how a senior Saudi prince recently described to me the kingdom's message to the United States. From day one, Saudi rulers hailed the arrival of President Trump, and what they believe will be greater US engagement in this region.
There's much talk of "turning the page" on what they saw as President Obama's infuriating retreat in Syria, and his focus on a nuclear deal with Riyadh's main rival, Iran.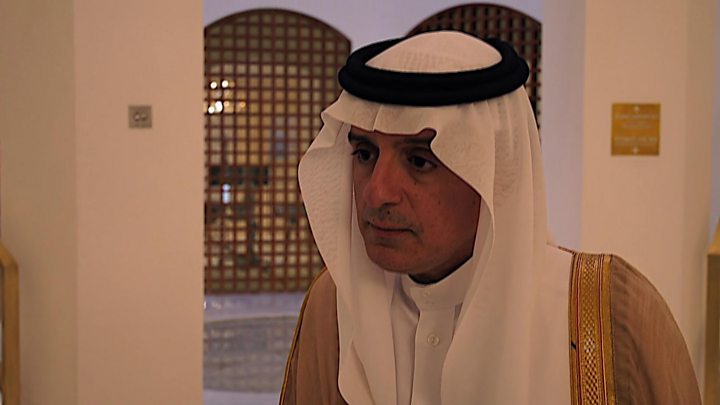 Saudi Foreign Minister Adel al-Jubeir admitted to me it was "a diplomatic coup" to claim the first stop on the US president's first foreign visit. Other historic first steps may be taken here too.
Another senior official in the region disclosed that Arab states are now discussing moves to start "normalising" relations with their old arch-enemy Israel.
This Riyadh summit will focus on new alliances to confront extremist groups. And the Saudis' overriding goal is to convince the US and others to exert far greater pressure on what they see as the greatest threat, from Tehran.
---
Like British Prime Minister Theresa May and German Chancellor Angela Merkel on their recent visits to Saudi Arabia, Mrs Trump and daughter-in-law Ivanka did not wear headscarves.
In January 2015, Mr Trump criticised then-First Lady Michelle Obama for doing the same. In a tweet, Mr Trump said she had "insulted" her hosts.
The agenda for the rest of Mr Trump's trip
Monday-Tuesday, 22-23 May: Tel Aviv and Jerusalem, before visiting the West Bank on Tuesday
Wednesday 24 May: Rome and Brussels. Mr Trump will meet Pope Francis, then Belgian officials
Thursday, 25 May: A Nato summit in Brussels
Friday, 26 May: Sicily, for a meeting of G7 members
What will the Trump presidency mean for Israel?
Find out which foreign leaders President Trump has met or called since taking office, as well as the countries he has mentioned in his tweets.
What has Trump said about your country?