Tata and ThyssenKrupp agree steel merger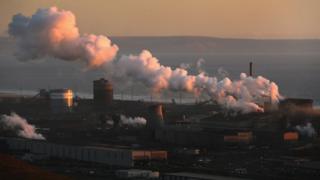 India's Tata Steel and German rival, Thyssenkrupp, have taken the first step towards merging their European steel operations.
The tie-up will lead to job losses, to be shared between the two companies.
The deal would create Europe's second-largest steel group, after ArcelorMittal.
The two companies have been in negotiations since last year, when Tata scrapped plans to sell off its UK operations.
Possible job losses
The firms have signed a memorandum of understanding that proposes a 50/50 joint venture, leading to annual cost savings of up to 600m euros (£533m; $720m).
The two partners expect the move will require a reduction in workforce of about 4,000 jobs, with half coming from administration and half from production.
The job losses will be shared evenly between the two companies.
In a statement, the chief executive of ThyssenKrupp, Heinrich Hiesinger, said the two companies needed to consolidate and become more efficient because of increasing pressure from imports and an overcapacity within the industry.
"We will not be putting any measures into effect in the joint venture that we would not have had to adopt on our own," he said.
Roy Rickhuss, chair of the National Trade Union Steel Co-ordinating Committee, said: "The steel trade unions cautiously welcome this news and recognise the industrial logic of such a partnership.
"As always, the devil will be in the detail and we are seeking further assurances on jobs, investment and future production across the UK operations.
"As a priority, we will be pressing Tata to demonstrate their long term commitment to steelmaking in the UK by confirming they will invest in the reline of Port Talbot's Blast Furnace No 5."
Business Secretary Greg Clark said: "The government has been working hard with the unions to secure a sustainable future for Tata Steel in the UK, its 4,000 employees at the Port Talbot site and its supply chain.
"Today's agreement between Tata Steel and thyssenkrupp is an important next step in establishing their shared ambition for Port Talbot as a world-class steel manufacturer, with a focus on quality, technology and innovation."
'Strong fundamentals'
The joint venture, to be named thyssenkrupp Tata Steel, would ship about 21 million tonnes of flat steel products every year.
The companies estimate the joint venture would have a turnover of about 15bn euros a year and a workforce of about 48,000 across 34 locations.
It would be headquartered in Amsterdam, in the Netherlands.
"The strategic logic of the proposed joint venture in Europe is based on very strong fundamentals and I am confident that thyssenkrupp Tata Steel will have a great future," said Tata Steel's chairman, Natarajan Chandrasekaran, in a statement.
The memorandum of understanding paves the way for due diligence, which means the two companies will closely examine each other's accounts.
The tie-up is subject to the two companies reaching a final agreement and obtaining all corporate authorisations, including board and shareholder approvals.
They expect to sign an agreement early next year and to finalise it by the end of 2018.