Syria conflict: US in rare counter-strike after Deir al-Zour attack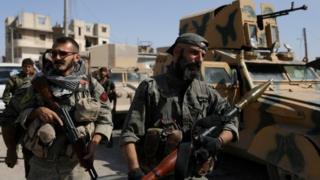 The US has launched rare air strikes in eastern Syria to thwart an attack on allied Kurdish and Arab fighters by forces aligned to Syria's government.
Up to 100 pro-government fighters were killed, US military officials say.
Some 500 fighters had tried take ground captured from the Islamic State (IS) group by the US-backed Syrian Democratic Forces (SDF).
SDF and government forces control areas on either side of the River Euphrates in Deir al-Zour province.
Some US forces are embedded with the SDF but they suffered no casualties. One SDF fighter was injured, the US officials said.
The pro-government forces had been backed by artillery, tanks and other heavy weaponry when they attacked an SDF headquarters "eight kilometres [5 miles] east of the agreed-upon Euphrates River de-confliction line", US officials said.
SDF forces responded with artillery and called in US air strikes.
The US insisted the actions were a self-defensive measure and the attackers were not pursued once they were driven off.
One US official said the pro-government forces may have been trying to seize the Khusham oil fields.
IS fighters still control some pockets in the region. The SDF is confronting them east of the Euphrates, while pro-government forces hold areas around Deir al-Zour city on the western bank.
IS had held most of Deir al-Zour since 2014. It was strategically important because of its proximity to the border with Iraq where IS was also active.
But it lost its last remaining strongholds in Syria in November.