Ronaldo borrows doctor's phone to check facial injury on pitch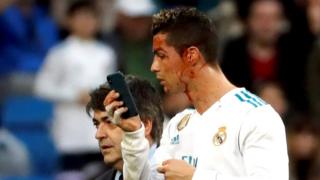 Real Madrid superstar Cristiano Ronaldo broke his dry spell in a powerhouse performance Sunday – but it wasn't his goal-scoring that made headlines.
Coming off with an injury, he borrowed a mobile phone camera from his doctor – to check his face in the "mirror".
As commentators laughed, declaring they had "seen everything now", Ronaldo shook his head with displeasure.
"Ronaldo took his obsession with his image to new heights," Reuters sports news wrote after the match.
"The most Ronaldo moment ever, simply incredible," offered sports site Benchwarmers.
"Ronaldo staring at himself in the mirror even while he's on the pitch," offered one commenter on BBC Sport's report.
Despite the rampant mockery on social media, Ronaldo's injury – caused by a boot to the head from Deportivo La Coruna's Fabian Schar – was deemed serious enough that he could not continue.
If it seems that fans and the media gave Ronaldo a hard time for checking a significantly bloody injury, the star does have some history of talking about his looks.
In 2011, he famously declared that opposition supporters booed him because he was "rich, handsome and a great player".
"People are envious of me," he said. "I don't have any other explanation."
Sunday's performance bore out his claim of being a great player – the striker managed to sink two goals before being led off the pitch.
The final result of 7-1 was enough to bump Real Madrid up to fourth place in La Liga.