Rayshard Brooks: Accused officer bailed despite widow's plea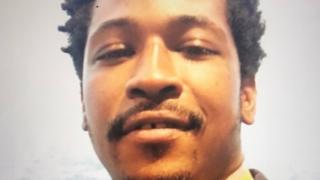 A judge has granted bail for an ex-Atlanta police officer charged with killing an African-American man in a restaurant car park earlier this month.
Garrett Rolfe, now free on a $500,000 (£403,000) bond, faces 11 charges, including murder, for the death of Rayshard Brooks, 27, on 12 June.
Mr Brooks' widow implored the judge not to grant bail, arguing Mr Rolfe was a danger to the community.
Mr Brooks' death fuelled anti-racism protests across the US.
He was shot while fleeing Mr Rolfe and another white officer. Mr Brooks had just failed a sobriety test. As the officers tried to arrest him, he punched Mr Rolfe, snatched his partner's Taser and then appeared to fire the stun gun towards Mr Rolfe as he gave chase, according to footage.
Tomika Miller, Mr Brooks' widow, spoke at the bond hearing on Tuesday via video.
Through tears, she told Fulton County Superior Court Judge Jane Barwick that Mr Rolfe "has already shown he's a danger to the community".
"My husband did not deserve to die, and I should not live in fear while waiting for the man who killed my husband to be tried in court."
Ms Miller said Mr Brooks was a loving father, and that he had died on her daughter's birthday and a day before the couple's anniversary.
Judge Barwick thanked Ms Miller for her bravery but said Mr Rolfe was not a flight risk and that she did not believe he posed a danger to the community.
Prosecutors had requested a $1m bond plus conditions: the passcode to Mr Rolfe's phone, his passport and firearms, as well as instating a curfew, requiring an ankle monitor and prohibiting contact with Atlanta police, witnesses or victims.
Mr Rolfe's lawyers, who argue he acted in self-defence, had asked for a $50,000 bond. They also denied prosecutors' allegation that Mr Rolfe kicked Mr Brooks as he lay on the ground.
Mr Rolfe will not have had to pay half a million dollars to walk free. Bail in the US typically costs about 10-15% of the total bond amount.
Judge Barwick denied the request for the passcode, but approved the other conditions set by prosecutors.
Mr Rolfe also appeared during the hearing via teleconference but did not speak.
The officers were responding on 12 June to a call from a Wendy's fast food restaurant employee that an apparently intoxicated customer, Mr Brooks, had fallen asleep in his car, blocking a drive-through lane.
Footage from police body cameras showed Mr Brooks complying with officers for over 40 minutes before he fought to break free as they tried to handcuff him.
Last week a woman referred to by Mr Brooks during the arrest as his girlfriend was charged with an arson attack on the Wendy's.
The night after Mr Brooks was shot, the restaurant was burned down in alleged retaliation for the 911 call that led to his death.
Natalie White, 29, did not enter a plea during her court appearance and was placed under house arrest on a $10,000 bail bond.