Policeman and attacker killed in Paris gun battle – French media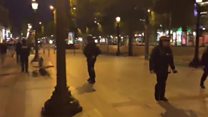 One policeman has been shot dead and a second wounded in central Paris, French police say, with reports that a gunman was later killed.
The Champs Elysees, where the shooting occurred, was sealed off. No motive for the attack has yet been reported.
It happened as candidates made their last pitches in a TV appearance before Sunday's presidential election.
Islamist militancy is a major issue in the polls after mass attacks claimed by so-called Islamic State.
There is no indication yet that this was an act of terrorism but the Champs Elysees, because of its worldwide renown and its large number of visitors, has long been seen as a potential target, the BBC's Hugh Schofield reports from the French capital.
Police sources quoted by Reuters news agency say it may have been an attempted armed robbery.
The whole of the Champs Elysees has been evacuated and police vehicles are lined up near a point half way up the avenue around the George V metro station, our correspondent says.
Shots were heard around 21:00 (19:00 GMT) in or near the Marks & Spencer store, provoking a panicked rush away from the scene by tourists and passers-by.