'Narco-pigeon' shot by Argentina police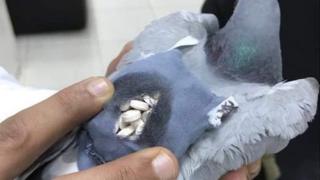 Police in Argentina have shot a carrier pigeon that was delivering drugs to a jail, prison authorities say.
The bird was spotted flying into the grounds of the jail in the central city of Santa Rosa.
Officers discovered it was carrying a backpack containing sedative pills, marijuana and a USB drive, reports said.
The smuggling method had already been detected and was under investigation, Clarín newspaper reported.
It published a picture of the dead pigeon with a white backpack containing 44 pills of the sedative Rivotril, 7.5g (0.25 oz) of marijuana and the USB drive.
The Argentine prisons service had warned in 2013 that traffickers were using pigeons making between 10 and 15 trips a day.
Three people were arrested and 15 pigeons were seized after the 2013 investigation, Clarín said.
Earlier this year a pigeon carrying a backpack containing 178 pills of the drug ketamine was apprehended in the Gulf state Kuwait near the border with Iraq.