Multiple casualties in Pakistan Methodist church attack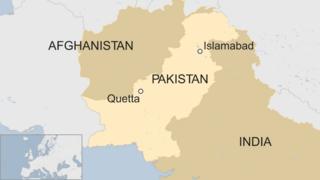 A suicide bombing and gun attack on a church in Pakistan has killed several people, reports say.
The attack happened in the city of Quetta, some 65km (40 miles) from the border with Afghanistan.
Five people were killed and 15 wounded, the AFP news agency said, quoting police official Abdul Razzaq Cheema.
The attack happened while prayers were being held in the Methodist church, the region's home minister, Sarfaraz Bugti, told local media.
He said two suicide bombers had been stopped near the entrance of the church.
Had the men not been stopped there could have been hundreds of casualties, he said in a tweet.
Reports carried by multiple news outlets say there was an exchange of gunfire with law enforcement following the initial explosion.
Security forces are conducting a search operation and have surrounded the site of the attack, in the city's high-security zone, local Urdu-language TV channels report.
A spokesman for the foreign affairs ministry, Dr Mohammed Faisal, condemned the attack.
Attacks in the region are not uncommon, often targeting the Hazara Shia community in suicide bombings.
But Pakistan's Christian minority has also frequently been the subject of militant attacks.