Malcolm Turnbull: PM loses ministers in leadership battle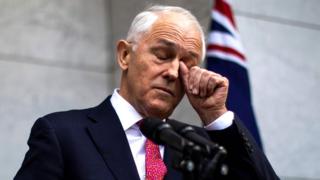 Ten government ministers in Australia have offered to resign following a failed bid to oust Prime Minister Malcolm Turnbull as party leader.
Mr Turnbull narrowly survived a vote against a senior government colleague on Tuesday, but is now likely to face a second leadership challenge.
He accepted the resignation of only two ministers including his challenger, Home Affairs Minister Peter Dutton.
The division has thrown Australian politics into a state of upheaval.
Mr Dutton, who resigned his Cabinet post after losing the vote, confirmed on Wednesday that he was still actively campaigning for the leadership and had lobbied other MPs for their support in a second vote.
"You don't go into a ballot believing that you can lose and if I believe that a majority of colleagues support me then I would consider my position," he told radio station 3AW.
Mr Turnbull had called the first vote himself in an attempt to end uncertainty around his leadership, but overcame Mr Dutton by just 13 votes.
He may face a second vote as early as Thursday.
In the past decade, three Australian sitting PMs have been deposed by party rivals within their first term.
Mr Turnbull is under leadership pressure because of his divisive energy policy and a long run of poor polling. Australians are due to hold a general election before May next year.
He accepted Mr Dutton's resignation as home affairs minister on Tuesday, but has since rebuffed offers to resign from eight other ministers, Australian media reported. The majority of this group hold smaller portfolios.
Deputy leader Julie Bishop confirmed "a number" of ministers had been convinced to remain in their posts and back the prime minister.
"Malcolm Turnbull wants to heal the divisions and unite the party, so we can get on governing for the Australian people," she told the ABC on Wednesday.
The Labor opposition, which tried to move a motion of no confidence against the prime minister in parliament on Tuesday, has called the situation chaotic.
"While chaos reigns, the country is not governed," Labor's Tanya Plibersek said.
Under the Australian system, as in the UK, the prime minister is not directly elected by voters but is the leader of the party or coalition that can command a majority in parliament.