Israeli soldiers killed in West Bank car attack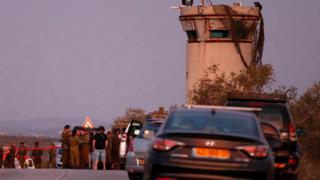 The Israeli military says two of its soldiers have been killed after a Palestinian man deliberately drove his car into a group of Israelis in the northern West Bank.
The incident happened near the Jewish settlement of Mevo Dotan, west of the Palestinian town of Jenin.
Two other soldiers were injured in the incident, reports said.
The driver fled from the scene but was later detained. Reports said he was lightly injured.