Hurricane Maria: Trump to visit storm-ravaged Puerto Rico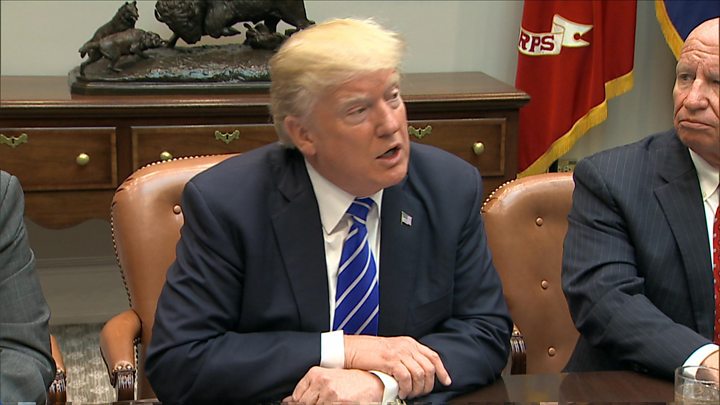 US President Donald Trump has announced he will travel to Puerto Rico next week amid a growing crisis in the wake of destruction caused by Hurricane Maria.
"That island was hit as hard as you can hit," he said at the White House.
Puerto Rico's governor has appealed for federal help, warning the island is on the brink of a humanitarian crisis.
Maria left at least 13 people dead in the US island territory and knocked out water, electricity and telephone services on the island.
The hurricane ripped through Puerto Rico, home to 3.5m people, last Wednesday as one of the most powerful storms in nearly 90 years, flattening homes and infrastructure.
Amid criticism that his administration is not acting fast enough, Mr Trump has said the US was sending food, water and supplies on "an hourly basis".
"Puerto Rico is very important to me," he said on Tuesday morning, "the people are fantastic. I grew up in New York so I know many Puerto Rican people."
Mr Trump said next Tuesday was the earliest he would be able to travel to Puerto Rico without disrupting relief efforts.
He may also visit the US Virgin Islands, which was hit by both Hurricane Maria and Irma, he added.
The president's announcement came after the mayor of San Juan, Puerto Rico, asked the US to put "people above debt".
Mayor Carmin Yulin's comments to CNN followed tweets by President Trump saying the island's $72bn (£53bn) debt needed to be addressed amid its appeal for relief aid.
"When someone is in a life or death situation," the mayor said, "there is a human, moral imperative to deal with that situation before dealing with anything else."
She also said two patients on life support died on Monday because a hospital ran out of diesel, CBS News reports.
The island's government asked a judge on Monday to defer key deadlines in its bankruptcy case as it grapples with Maria's devastation.
Meanwhile, Puerto Rico Governor Ricardo Rossello called for more rapid relief efforts.