Gambia denies hosting Russian imperial revival bid
Gambia denies hosting Russian imperial revival bid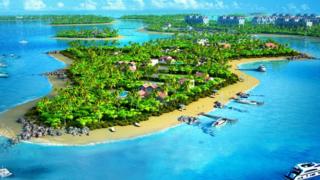 The Gambia has become the latest country to deny that it is selling a Siberian businessman land for his plan to revive the Russian monarchy.
The Gambia "has not signed any memorandum of understanding with the Romanov Empire represented by Arch Chancellor Prince Anton Bakov," the Gambian president's website says
Mr Bakov told reporters back home that The Gambia had agreed to let him build artificial islands on its Bijol islets as a base for his Romanov Empire micro-state, in return for $60m (£44.8m) and use of the proposed hi-tech "smart city" of Saint Nicholas, the Argumenty i Fakty website reports.
But the Gambian government says it did not agree to Mr Bakov's proposal during his visit last month.
Government lawyers rejected the plans on the grounds that the Romanov Empire is "not a real state… and does not have the authority to enter into an international treaty," the president's website says.
They also raised concerns about the environmental and financial implications of the artificial islands project.
Mr Bakov, a former MP, created the Romanov Empire micro-nation in 2011 for "people unhappy with President Vladimir Putin's regime". It is nominally led by "Nicholas III", a German aristocrat with a Romanov grandmother, but has little support among Russia's traditional monarchists.
Mr Bakov has tried and failed to persuade a series of other countries – most recently Kiribati in the Pacific Ocean – to let him use their islands as a territorial base for his Empire.
But this latest rebuff seems unlikely to dampen his enthusiasm for restoring Russia's imperial glory in exile. "I never put all my eggs in one basket," he told reporters in his home city of Yekaterinburg.
Reporting by Alistair Coleman and Martin Morgan
Next story: Japan enforces new road rules for 'Mario Kart' drivers
Use #NewsfromElsewhere to stay up-to-date with our reports via Twitter.