Book lifts lid on Finland's £475,000 armoured car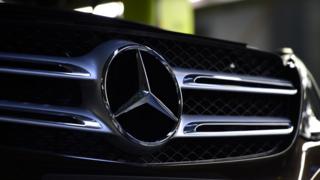 A tell-all book by a former government accountant claims that Finland once spent a small fortune on an armoured car that proved impractical to use.
According to Pertti J. Rosila, the former head of the Finnish Parliament's accounting office, civil servants convinced one-time prime minister Paavo Lipponen to purchase a 550,000 euro ($682,000; £475,000) Mercedes Benz limousine in 2004 for the benefit of visiting dignitaries, national broadcaster Yle reports. While expensive, there was no wrong-doing behind the purchase.
Mr Lipponen, who was parliamentary speaker at the time, never used the car, Mr Rosila says. However, those that did found it enormously impractical, according to a report in the Ilta Sanomat newspaper.
Not only was the inside of the car cramped, but the armoured doors were so heavy that they were impossible to open if the car was parked on an incline.
Its upkeep reportedly also proved problematic, with fuel economy figures showing that the vehicle only managed a shocking 43 litres per 100km (approximately 5.5 miles per gallon). Rosila adds that after every 23,000 kilometres, the car required new bulletproof tyres costing 10,000 euro. It's not clear if the price was per tyre, or for a full set.
Perhaps most embarrassing, Ilta Sanomat reports, is Mr Rosila's claim that nobody knows what has since happened to the car.
After three years of service, it was given to Supo, Finland's Security Intelligence Service, and then donated to the police. However, the particular traffic unit it was given to was closed down, and the vehicle "passed into obscurity", Yle says.
Now, Ilta Sanomat says, senior Finnish politicians ride in much cheaper Audi saloon cars. The president's car was budgeted at a slightly less eye-watering, 90,000 euros. ($111,000; £77,000).
Reporting by Alistair Coleman
Next story: Mo Salah lanterns to light up Egypt's Ramadan
Use #NewsfromElsewhere to stay up-to-date with our reports via Twitter.