Argentina ends missing sub 'rescue mission'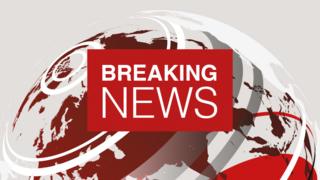 The Argentine navy has said it has abandoned attempts to rescue 44 crew members on board a submarine that disappeared two weeks ago.
"Despite the magnitude of the efforts made, it has not been possible to locate the submarine," navy spokesman Enrique Balbi said on Thursday.
The, sub, the ARA San Juan, last made contact on Wednesday 15 November.
Hopes of finding survivors faded since a suspected explosion was reported near its last-known location.
Capt Balbi said the search for the submarine had been "extended to more than double the number of days that determine the possibilities of rescuing the crew", but added that teams would continue to search for the vessel on the seabed.
On Tuesday, Capt Balbi told reporters that water had entered the sub's snorkel, which can be used to take in air from above the surface when the submarine is submerged.
The saltwater dripped onto a battery tray in the prow, causing the battery to short circuit and to smoulder, he said.