#WhoIsSue? Mystery behind giant field message solved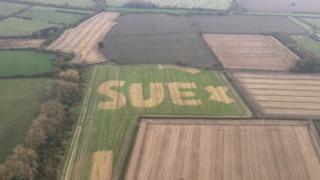 The identity of a woman whose first name was emblazoned in huge letters in a farmer's field has been revealed.
A frenzy was sparked on social media, spawning the hashtag #WhoIsSue, after the letters "SUE x" were spotted by a police pilot flying over Oxfordshire.
It turns out that farmer Murray Graham created the message for his wife as a way of apologising for being "grumpy".
His son George Graham said: "I suppose Dad wanted to express his love in the most creative way he could."
Mr Graham's handiwork was spotted on Thursday by a helicopter pilot with the National Police Air Service (NPAS) flying just south of Tetsworth, near Thame.
A photo of the message then posted on the NPAS Benson Twitter page was shared more than 650 times.
The Twitterati explored various theories, ranging from aliens accused of making crop circles wanting to "sue" for defamation to a PR stunt by the Field Museum, which houses a T-Rex skeleton called SUE.
Someone even found a satellite image of the message.
But on Friday evening the crop conundrum was solved: it was a romantic gesture to appease a disgruntled farmer's wife.
Mr Graham told BBC Radio Oxford that he used his GPS-operated tractor to spray the crops in the shape of his wife's name.
He said he wanted to prove "I'm not quite as grumpy and old as perhaps I make out occasionally."
The farmer added: "As ever, everything has its ups and downs, so I thought I'd try and make a gesture at some point, and that was the one I chose."
He had intended for his son George, a pilot, to take a photo and show it to his wife as an apology, but the passing police helicopter beat him to it.
George Graham revealed his father had been "in the doghouse" after not "pulling his weight" at home.
He added: "I don't know if what he's done is sufficient appeasement for Mum, but it certainly caused a stir on social media."