Suffolk PC saves dog in the wake of Hurricane Irma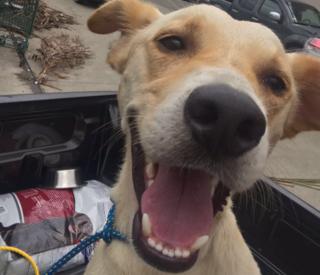 A British policeman has rescued a dog he befriended in the Caribbean in the aftermath of Hurricane Irma.
Suffolk PCs Peter French and Jonathan Harvey flew out to the British Virgin Islands to help maintain order in the wake of the devastating storm.
While on patrol on the island of Tortola, the pair encountered Buddy, a stray Labrador cross.
The dog is in quarantine for 21 days before he can fly to the UK to start a new life in Ipswich.
PC Harvey said: "He was fairly slim and slender, his paws were quite raw, he was clearly quite shaken up."
The officer said they spent about 30 or 40 minutes with Buddy, giving him food and water, and it was when they went to leave that PC Harvey realised he had to save him.
"He put his paws around my thigh and buried his head in my stomach and didn't want to let go, bless him," said PC Harvey.
"He had to come back."
PC Harvey said they took the dog to the vet, who established he is about two years old and had not been micro-chipped.
Buddy has had the necessary vaccinations and checks and is currently in quarantine in Washington DC.
PC Harvey said he was looking forward to having Buddy home with him in Ipswich.
"I'm sure we'll have a lot of fun, walks and playing about with family," he said.
Hurricane Irma, described as the most powerful Atlantic storm in a decade, hit the British Virgin Islands on 6 September.
Less than two weeks later, Hurricane Maria also hit the Caribbean.
More than 1,300 UK troops were sent to help the relief effort.