Star Wars actor Mark Hamill 'supports Wolves'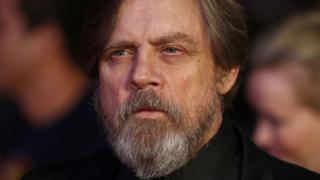 Star Wars legend Mark Hamill has become a fan of Wolverhampton Wanderers Football Club – albeit by accident.
After fans on Twitter suggested he could support Wolves, this got a 'like' from Hamill, who played Luke Skywalker.
@HamillHimself said on Twitter when asked if he liked the Wolves, he "thought they meant the animal" but added "everyone got so excited-I HAD to be a fan".
The club said he had confirmed he was a fan and the force was "strong" there.
'Landspeeder passing'
Fans group Wolves Fancast tweeted that it took the fact he had liked a tweet as confirmation he was now a fan.
The club said it was made aware of the social media chat and added: "We sent a tweet to Mark, who replied to confirm that he has indeed now pledged his allegiance to Wolves – clearly he is a good judge!
"The force is certainly strong at Molineux at the moment with the team making an excellent start to the season, and it was perhaps fitting that yesterday's game against Millwall finished Obi Wan-Nil.
"There is always room in the Wolf Pack for The Last Jedi, and there is the open invitation for Mark to attend a fixture at Molineux should his Landspeeder ever be passing."
It all started with @HamillHimself liking a Tweet from a #Wolves fan, prompting the fans on Twitter to ask if he was a fan.
The actor tweeted in reply that he was now as they had made him "feel like family".