Sheffield crash: Father and son named as victims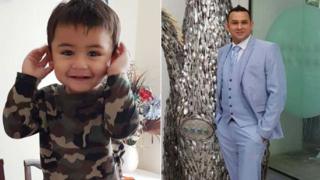 A father who died in a car crash alongside his one-year-old son was "full of life" and a "loving father", his uncle has said.
Adnan Ashraf Jarral, 35, and his son, Usman Adnan Jarral, died when their people carrier collided with a VW Golf in Sheffield on Friday night.
Mr Jarral's uncle, Shafqat Mirza, said his nephew was "humble and polite".
Two other people died in the crash, which happened shortly after police had pursued the Golf.
The 50-year-old man and 41-year-old woman are understood to have been friends of Mr Jarral's wife, Tahreen, who is recovering in hospital.
Two other people – a 22-year-old woman and a three-year-old girl – also remain in hospital with serious injuries following the collision.
Mr Mirza said: "It's been absolutely devastating for all of us and all the family.
"Here we have a young man who was with us, around us, always asking everybody how we are, and now we find that he is no longer with us.
"It's something that we can't come to terms with. It was absolutely horrific. So devastating."
The crash happened shortly after 20:50 GMT when the Golf was in collision with Mr Jarral's VW Touran as it turned right on to Bannham Road towards Darnall.
Local resident Tufail Hussain, 80, who was one of the first people to get to the wreckage, said: "It was just terrible. It's the worst thing I have ever seen," he said.
"The whole community is shocked but they have pulled together. Everyone came together to help."
Det Ch Insp Jude Ashmore, of South Yorkshire Police, said it was an "incredibly tragic accident".
He praised the community for their response in helping emergency services.
The men in the Golf, aged 17, 18 and 23, were arrested and remain in custody after suffering minor injuries.
The police watchdog, the Independent Office for Police Conduct (IOPC), has started an investigation.