Salisbury free parking cut because of commuters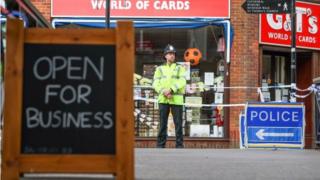 Free parking to help businesses after the nerve agent attack in Salisbury has been reduced because commuters are taking advantage of the scheme.
Wiltshire Council brought in free parking to tempt shoppers back after the attack on Russian ex-spy Sergei Skripal and daughter Yulia on 4 March.
It said footfall in the city had dropped by 15% since the attack.
However it has since found a "large extent" of free spaces were being used by commuters instead of visitors.
Parking will now become free from 12:00 BST on weekdays, and continue to be free over the weekend.
Wiltshire Council Leader Baroness Jane Scott said: "We implemented free parking to encourage people to visit the city and to promote it is very much business as usual.
"However, the feedback we have received has highlighted the need to reconsider free parking in the city to ensure that local businesses can benefit from additional visitors and shoppers."
The cost of free parking is being funded by Wiltshire Council and Salisbury City Council.
Specialist teams are continuing to ensure that any residual nerve agent used in the attack is chemically cleaned, or removed and safely destroyed.