Robert Trigg jailed for life for killing two girlfriends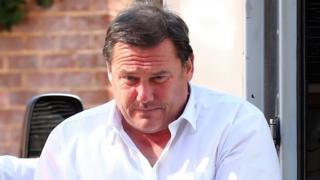 A man who killed two girlfriends five years apart has been jailed for life.
Robert Trigg was convicted of murdering 52-year-old Susan Nicholson in 2011 and of the manslaughter of Caroline Devlin, 35, who died in March 2006. Both were treated as not suspicious at the time
Trigg, 52, was told he would serve a minimum of 25 years in prison.
In a statement in court, Ms Nicholson's elderly mother questioned why she had been able to gather enough evidence to bring the case to court but not police.
Sentencing Trigg, Justice Ingrid Simler said: "I hope what you will do is reflect on your role… in causing these senseless deaths."
Despite both of the deaths, in Worthing, West Sussex, being treated initially as not suspicious, the family of Ms Nicholson refused to accept foul play had not played a part in her death.
They launched a five-year campaign to get to the truth.
After Trigg's conviction Ms Nicholson's parents Elizabeth and Peter Skelton said getting justice for their daughter's death had been "mental torture".
Mr Skelton said: "We told them [Sussex Police] all the facts, even the facts that came out in court, but the police still wouldn't listen, but in the end they had to listen."
Ms Nicholson's family complained on three occasions to the Independent Police Complaints Commission but were unsatisfied with its response.
In 2014 they hired a barrister and a forensic pathologist, Dr Nathaniel Carey, to re-examine the original pathologist's report.
In a victim impact statement read out in court, Mrs Skelton said the family wanted answers over why she and her husband, now both in their 80s, were able to bring Trigg's case to court and not the police.
Brandyn McKenna, the youngest son of Ms Devlin, said outside court on Wednesday: "We have always said that it was all down to the Skelton family that we finally got justice."
Sussex Police has apologised to the families of Ms Nicholson and Ms Devlin for not presenting all the facts to prosecutors following the original investigation.