Regular heatwaves 'will kill thousands'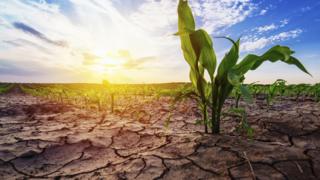 The current heatwave could become the new normal for UK summers by 2040 because of climate change, MPs warn.
The Environmental Audit Committee warns of 7,000 heat-related deaths every year in the UK by 2050 if the government doesn't act quickly.
Higher temperatures put some people at increased risk of dying from cardiac, kidney and respiratory diseases.
The MPs say ministers must act to protect people – especially with an ageing population in the UK.
Isn't the heatwave natural?
Scientists differ on whether the current global rash of heatwaves is definitely caused by climate change.
But all agree that future heatwaves will be hotter and more frequent thanks to carbon emissions.
The MPs point to a warning from the Met Office that UK summer temperatures could regularly reach 38.5C by the 2040s.
How can people be protected?
The government says it is committed to cutting carbon emissions, although it is not on track to meet its targets.
But the MPs say ministers should be much smarter about heat-proofing the UK.
They say the government's current plans will not stop buildings overheating.
They want tougher rules to ensure that homes and transport networks can deal with extreme heat.
They also say local councils should plant trees and keep green spaces to provide cool air.
What about the NHS?
The usual number of consultations for heat-related illness doubled during the 2013 heatwave, the report says.
And the MPs want hospitals and care homes inspected to check they can cope with scorching heat.
"The ability of nursing homes to cope with the serious health impact of heatwaves on older people is not assessed," the report says.
This is worrying given that in the 2003 heatwave, excess deaths in nursing homes in some parts of the UK rose by 42%.
Mary Creagh, who chairs the Environmental Audit Committee said: "Heatwaves threaten health, wellbeing and productivity.
"The government must stop playing pass-the-parcel with local councils and the NHS, and develop a strategy to protect our ageing population from this increasing risk."
Which homes are most at risk from heat?
In a densely populated city, temperatures will be higher.
Homes built in the 1960s and 1970s can present a particular risk – so can flats with windows that are small, hard to open or all face the same way.
The committee complains that there is no regulation to prevent overheating in buildings.
It wants the government to stop supporting the building of modular homes, which are factory-made then bolted together on site. They are not resilient to hot weather, it says.
Meanwhile, the Committee on Climate Change wants shading structures introduced on buildings.
Will there be a problem with transport?
The report says only 50% of the UK's motorways and major roads are surfaced with material that can withstand the kind of summer temperatures the country is beginning to experience regularly.
During the peak of the June heatwave, railway tracks buckled – causing cancellations and delays.
How should offices and schools adapt?
High heat reduces productivity. Workers arriving sweating to the office take time before they're ready to do the job. People working outside find themselves doing less and needing more breaks.
The committee says Public Health England should tell employers to relax dress codes and allow flexible working in heatwaves.
The government should also consider introducing maximum workplace temperatures, especially for physical work.
In schools, head teachers should be advised about safe temperatures in the classroom. And they should relax school uniform policy during hot weather.
A recent study suggested that wealthy private schools that could afford air conditioning would increase the relative exam success of their pupils during summer heat.
Should we fear the heat island?
Cities can be up to 10C hotter than the surrounding countryside because hard surfaces absorb heat during the day and give out heat at night. This is the heat island effect.
If people get too hot in bed, it prevents them recovering from the previous day's heat. The MPs say that in the 2003 heatwave, excess deaths in London increased by 42%.
Yet the government's planning framework makes no mention of the heat island effect.
What's more, ministers withdrew funding for local authority climate change adaptation officers, who were trying to tackle the issue.
The report says the government should introduce an urban green infrastructure target – and ensure towns and cities are adapted to more frequent heatwaves.
What about water supplies in heatwaves?
The committee wants new homes to have to use water more efficiently. There have been consistent demands for the water companies to store more water – especially in the dry South East – and to plug leaks.
Kathryn Brown, head of adaptation at the Committee on Climate Change, said: "Water shortages are a concern – we can expect greater water deficits across the country, including in cooler wetter areas like the north-west of England.
"The area of land well suited to the production of water-intensive crops, such as rain-fed potatoes, could decline by over 80% by the 2050s."
Will we get out-of-season heatwaves?
The committee says the government's heatwave alert system runs only from June to September, so vulnerable people will not be warned about unseasonal heatwaves.
The MPs heard that alerts are put out only if approximately 30°C is reached – even though the medical director at Public Health England said heat-related deaths began at upwards of 25°C.
When was this report commissioned?
The inquiry began just after Christmas.
What about cold weather?
In the UK, many more preventable deaths happen because of cold weather than hot weather – but the government has failed to deliver its targets for insulating homes.
If the UK's winters get warmer, as generally predicted, winter deaths will be reduced. But in a year like this one, the UK has suffered extremes of cold and heat.
Both heat-related and cold-related health burdens in future will be amplified by population ageing.
How will heatwaves affect poor countries?
Charities will point out that the UK's challenges from future heatwaves will be dwarfed by the consequences in poor nations, which haven't caused the climate problem.
A study by Prof Richard Tol, at the University of Sussex, suggests that poorer countries are likely to see their economic growth slowed because they depend on agriculture and outdoor work.
His study says nations with hot climates will need economies three times larger than cooler countries if they are to withstand significant temperature rises.
He said: "[This] raises concerns over the inequality of future climate impacts, and [raises] calls for policymakers to consider poverty reduction as a crucial element of climate policy."
What does the government say?
An official told BBC News; "We are taking robust action to ensure our country is resilient and prepared for the challenges a changing climate brings.
"We will continue to support vulnerable people across society by issuing public health alerts during spells of hot weather, providing advice to schools, and taking steps to tackle overheating risks in new homes.
"Our long-term plan for climate change adaptation sets out ongoing work and investment to make sure food and water supplies are protected, businesses and communities are properly prepared and the right infrastructure is in place
"The government will carefully consider each of the report's recommendations."
Follow Roger on Twitter.