Reality Check: Do UK supermarkets vary prices by area?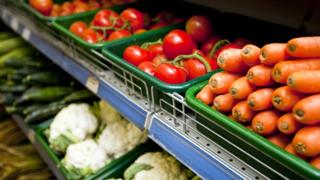 Something unusual has been happening in UK supermarkets in the last week.
Since Tuesday 1 May, minimum alcohol pricing in Scotland has meant that they have not been charging the same prices for groceries across the UK.
A report into competition between supermarkets in 2000 conducted by the Competition Commission (CC) found that some supermarkets had been varying prices based on whether competitors had shops nearby.
It called the practice price-flexing, and distinguished it from varying prices based on local costs, such as higher rents or property prices.
The CC considered ordering the bigger supermarkets with the most market power to stop this and stick to national prices, but eventually decided against it.
Nonetheless, if you look at Britain's biggest supermarkets, they do all basically operate national grocery pricing.
Reality Check confirmed this with Tesco, Sainsbury's, Asda, Morrisons, Aldi, Co-op, Waitrose, Lidl and Iceland.
There are a few exceptions, for example Sainsbury's stores have different prices to Sainsbury's local and Waitrose will have different prices to Little Waitrose stores, which may then be different to Little Waitrose on petrol forecourts.
The national pricing includes promotions, although some end-of-day discounts are determined at individual stores.
Also, while the biggest group of Co-op supermarkets have national pricing, there are also smaller co-operative societies that are entitled to use the brand and set their own pricing.
While they do all operate national pricing, it is just because they choose to do so – they haven't signed up for a code of conduct or anything binding. So if they decided to introduce regional variations they could do.
The Centre for Cities recently asked whether it would be better if supermarkets did operate local pricing.
It compared the national pricing situation for supermarkets with the local model run by JD Wetherspoon pubs, highlighted in an FT blog.
The Centre for Cities argued that regional pricing would allow supermarkets in poorer neighbourhoods to lower prices to reflect their lower costs, such as lower rent, and the lower average earnings in the area.
The problem with this is that the Competition Commission found that prices were being altered based on how much local competition there was, not just on the local costs.
But also, our biggest supermarkets have already set themselves up to be able to cater nationally to different income groups. Tesco already effectively competes with itself on price through its value and finest ranges, for example.