Pope Francis tweets in sick toddler Alfie Evans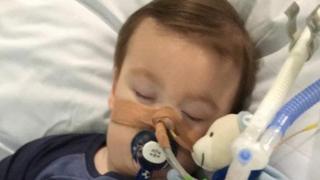 The Pope has tweeted his support for sick toddler Alfie Evans whose parents lost a legal fight to stop his life support machine being switched off.
Pope Francis said he hoped "everything may be done to "continue compassionately accompanying little Alfie Evans".
Last month the European Court of Human Rights (ECHR) rejected the case of his parents Tom Evans and Kate James.
The Merseyside couple wanted to take the 22-month-old to Rome for treatment.