Police officer run over in Blackley during van chase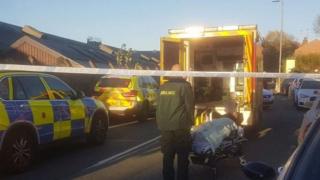 Two teenage girls are among four people arrested after a police officer was run over during a police chase.
The officer, 43, suffered leg injuries when he was hit by a van being pursued by officers at 07:30 BST in Blackley New Road, Blackley, Manchester.
He had been responding to a disturbance at a nearby flat when a man fled in a black Citroen Berlingo.
Two girls aged 16 and 17 and two men, both 23, are being held on suspicion of assault and theft of a motor vehicle.
Greater Manchester Police said officers attempted to speak to the van driver before it hit the officer.
Three police vehicles and five cars in Blackley New Road were also struck by the vehicle.
Witnesses told the BBC the van reversed as the driver tried to get away from two chasing police cars, but then hit a wall.
Police confirmed the van was later recovered a few miles away in Newton Heath.
The police officer has now been released from hospital and is recovering at home.
Supt Chris Hill of Greater Manchester Police said: "Whilst the injured officer came straight back into work from hospital on his new crutches, he's been sent home to recover with his family and we all wish him a speedy recovery.
Blackley New Road remains closed at the junction with Delaunays Road while investigative work is carried out.
Witness Jack Heys, 23, told the BBC: "It was madness.
"The van driver scraped the side of my car as he was trying to get away from two chasing police cars.
"He was right beside me and I waved my hands at him as if to say 'What are you doing?'.
"It then hit a policeman. The van driver was desperate to get away and reversed but hit a wall."
Mr Heys added: "There were two women in pyjamas in the back of the van – they seemed to know him."
Chief Constable Ian Hopkins described it as a "shocking incident".