Police appeal after mother vanishes with two sons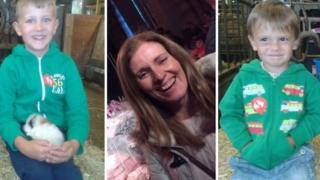 Police have said they are concerned for the safety of a mother and her two sons who have gone missing.
Samantha Baldwin, 42, from Newark, Nottinghamshire, was last seen in Nottingham city centre on Monday.
She is believed to be with nine-year-old Louis Madge and six-year-old Dylan Madge, Nottinghamshire Police said.
The family has connections to Lincolnshire and Manchester and it is thought the mother and children may have travelled there.
At a news conference, Supt Rich Fretwell said detectives had carried out searches of properties, studied CCTV footage and employed number plate recognition technology.
He said: "We are seriously concerned for the welfare of all three of them.
"We need to find them as soon as possible to make sure they are safe and well."