Poldark fans flock to preview screening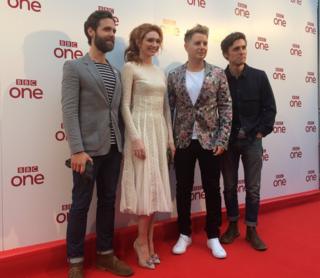 Poldark fans were treated to a preview of the first episode of series four at its premiere in Cornwall.
The period drama, based on novels written by Winston Graham, attracted audiences of more than 9.4 million in it first series in 2015 and has since had global success.
The fourth series which begins on BBC One on Sunday is the "best yet," according to cast members.
Several attended the special screening at Redruth cinema on Tuesday evening.
Eleanor Tomlinson who portrays Demelza Poldark said she felt "very humbled" by the success of the programme.
She said she "does not engage in any hype on social media" because "haters just make you feel bad" and she wants to be "known for my acting not my personal life".
When asked during a question and answer session what her all time favourite scene was to date she said: "It's a scene I'm not in and hasn't been on yet… Luke (Norris, Dwight Enys) getting out of the sea".
Debbie Horsfield, writer and executive producer, said the "scale and stakes are higher" in series four and one new character includes the mother of "baddy" Ossie Whitworth who is "a monster".
The mother-of-four revealed that she has written every single episode of the hit drama whilst on a treadmill, as she believes "getting oxygen to the brain helps".
Karen Thrussell, executive producer with Mammoth Screen – which makes the programme, said series five is already under way but that the series was then "coming to a natural conclusion".
She added: "Everybody loves doing it. Never say never."