No rate rise until 2019, economists say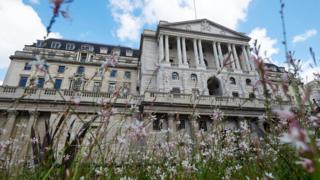 Most economists do not expect UK interest rates to rise until 2019 despite inflation remaining above target, according to a BBC snapshot survey.
Most of those surveyed think the Bank of England's Monetary Policy Committee (MPC) will be reluctant to raise rates during Brexit negotiations.
The base rate has stood at a record low of 0.25% since August 2016.
That was the first cut since March 2009, when it was reduced to 0.5%.
Last week, one MPC member, Michael Saunders, said a "modest rise" in rates was needed to curb high inflation, which stood at 2.6% in July.
In June, three of the MPC's eight members voted for a rise – the first time since May 2011 that so many had wanted to tighten policy.
The same month the Bank's chief economist, Andy Haldane, also made a call for a rate rise this year.
However, Mark Carney, the Bank governor, said in his Mansion House speech in late June that "now is not yet the time" to start raising rates once more.
Stuart Green, of Santander Global Corporate Banking, told the BBC he did not expect a rate hike to happen before 2019.
"We believe that policymakers will be reluctant to tighten monetary policy until greater clarity emerges around the UK's post-EU trading framework, and our expectation of declining inflation through 2018 should also reduce the pressure for an interest rate rise," he said.
Others expect it to be even longer, with economists at Morgan Stanley not expecting any movement until March 2019 at the earliest, with Andrew Goodwin at Oxford Economics suggesting it would not happen until the third quarter of that year.
Similarly, Fabrice Montagne, at Barclays, expects rates to stay on hold until "at least 2019".
But there are those who argue that the Bank will raise rates sooner. Howard Archer, chief economic adviser at the EY ITEM Club, said he had one increase, to 0.5%, pencilled in for late 2018, adding: "I would not be at all surprised if it was delayed until 2019."
Michael Lee, at Cambridge Econometrics, expects a rise to come in either the second or third quarter of next year as he thinks inflation will stay above the Bank's 2% target for the next two to three years.
Philip Rush, at Heteronomica, is more specific, settling on May 2018.
The one outlier is George Buckley at Nomura, who expects the MPC to jump in November.
Inflation
The BBC also asked the economists when they expect inflation to peak in the UK. Both Mr Rush and Mr Archer think it will hit 2.9% in October, with the latter predicting it will then start to fall back "as the impact of the sharp drop in sterling following the June 2016 Brexit vote increasingly wanes".
Several others, such as Mr Green, Mr Lee and Mr Goodwin, expect inflation to hit 3% in the final three months of the year before starting to retreat.
Morgan Stanley is more pessimistic, however, predicting a peak of 3.2% in Spring 2018.
Sterling
Holiday makers planning trips to the continent in the next few months should prepare themselves for more pain, according to Morgan Stanley.
Its currency strategy team expect sterling to weaken against the euro by a further 10% by March 2018.
Mr Green at Santander also forecasts more weakness for the UK currency over the course of the next year, with an average of $1.25 to the pound and just 96 euro cents in the final quarter of 2018.
Mr Archer thinks the pound will sink to about $1.25 by Christmas, but recover to trade about seven cents higher by the end of 2018.
Heteronomica's Mr Rush is also a little more optimistic about sterling, expecting it to be stronger within a year.
"Interest rates are likely to be higher then, and negotiations with the EU27 are likely to have progressed to the point that trade and transitional arrangements are being discussed, with the risk of a disorderly Brexit accordingly reduced," he said.
---
Analysis: Andrew Verity, economics correspondent
The last time interest rates went up was 5 July, 2007. They rose by a quarter of a percentage point to 5.75%. The next month the credit crunch struck, and so began a series of cuts, down to 0.5% in March 2009.
These were supposed to be emergency measures. Then came the Brexit vote, and in August 2016 the official rate dropped to a fresh record low of 0.25%. That compares to a typical range of 5%-13% for most of the 1990s.
Emergency rates are the new normal. That carries dangers. If we hit another slump, we've run out of road; there won't be much the Bank of England can do to help by cutting interest rates.
While some members of the Bank's monetary policy committee think we should start restoring interest rates to non-emergency levels this year, that is a minority view, as our snapshot of economists' forecasts shows.
You could draw a number of conclusions.
You might decide interest rates aren't effective on their own – so the government should rely less on the central bank stimulus and instead use fiscal policy (cutting taxes or raising spending).
You might take the view that rates should rise to help savers and pension schemes.
Or you might take the view that an early rise could worsen the economic slowdown. You might even believe that we need to find ways to get the official rate below zero (so that I, the lender, pay you, the borrower, to take my money).
Pick your conclusion. Whichever you choose, normality ain't what it used to be.
---