Nazanin Zaghari-Ratcliffe: 'UK government could do more'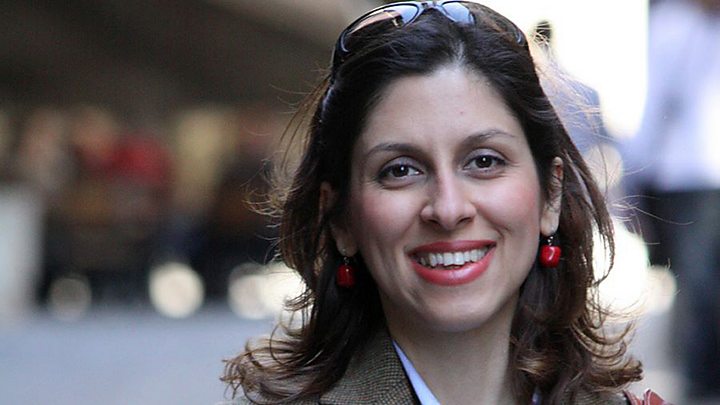 The UK government "hasn't done all it could have done" to secure the release of a British-Iranian woman being held in Iran, her husband has said.
Nazanin Zaghari-Ratcliffe was arrested during a visit to Iran in April 2016, accused of trying to overthrow the regime, which she denies.
In a phonecall, Richard Ratcliffe has asked the foreign secretary to consider diplomatic protection for his wife.
He hopes to meet with Boris Johnson and accompany him on a trip to Iran.
Under international law, diplomatic protection is a way for a state to take diplomatic action on behalf of a national.
Mr Ratcliffe said that Mr Johnson "did promise to consider whether she'll be eligible for diplomatic protection" which "gives a different push" to what the government can do for his wife.
Speaking to Radio 4's Today programme, Mr Ratcliffe said he had written to the Foreign Office following remarks made by cabinet minister Michael Gove.
On Sunday, Mr Gove told the BBC he did not know what Mrs Zaghari-Ratcliffe had been doing in Iran when she was arrested.
Her family have always maintained she was in Iran on holiday with her daughter.
"I'm reassured that it is the position of the government," Mr Ratcliffe said.
The full details of the allegations against Mrs Zaghari-Ratcliffe have never been made fully public.
But speaking in Westminster on 1 November, Mr Johnson appeared to contradict her own account when he wrongly said she had been training journalists.
Four days later, Mrs Zaghari-Ratcliffe was recalled to court in Iran and Mr Johnson's remark cited as evidence against her, prompting fears that her five-year sentence could be extended.
Labour have since called for the foreign secretary's resignation, but Mr Ratcliffe has said he believes it is not in Mrs Zaghari-Ratcliffe's interests for anyone to resign.
Mr Ratcliffe went on to say a call for his wife's release from the United Nations last month had not been endorsed by government.
In October, José Antonio Guevara Bermúdez, chair-rapporteur of the UN's Working Group on Arbitrary Detention, and Ms Asma Jahangir, special rapporteur on human rights for Iran, called for Mrs Zaghari-Ratcliffe's immediate release.
She had been "deprived of her liberty", they said.
"The UK didn't endorse that call," Mr Ratcliffe said. "It hasn't ever acknowledged a violation of her rights, which I find staggering."
But he still hopes his family will be reunited by the end of the year.
"I think the best chance Nazanin has of coming home this side of Christmas is all of the weight of the foreign office and the foreign secretary being focussed on doing that," he said.