Lowestoft homes evacuated as grenades and chemicals found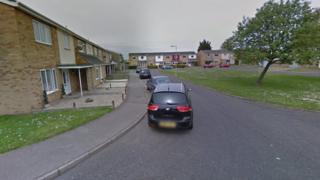 Two military grenades and "unidentified chemicals" have been found at a property in Lowestoft, leading to 60 houses being evacuated.
Officers have set up a 100m cordon at Normanshurst Close while they wait for an Army bomb disposal team to arrive.
Suffolk Police made the discovery while executing a warrant just before 13:00 BST. They are being supported by Suffolk Fire and Rescue crews.
A man in his 50s has been arrested on suspicion of possession of a firearm.
People living in the area said they were asked by police to pack a bag before leaving their houses.
Chloe Marie Cullen, 23, had to leave her flat on neighbouring Normanston Drive, with her dog Amber.
"I heard lots of sirens then I saw the police walking up the road towards the house. But I stayed calm as they seemed to have it under control.
"The police told me to pack an overnight bag as there's a chance we might not be able to get back in this evening."