'Love contract' stalker Lina Tantash jailed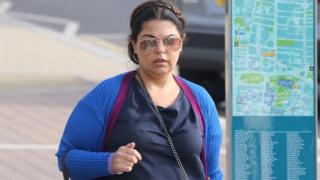 A "vicious, manipulative" stalker who turned her ex's life into a "living nightmare" after he broke a so-called love contract has been jailed for four years.
"Devious" Lina Tantash, 44, waged a 10-year harassment campaign against Jarlath Rice, Lewes Crown Court heard.
She bombarded him with 20,000 abusive texts, hacked his voicemails and sent £200 worth of pizza to his work.
Tantash was convicted of stalking at an earlier hearing.
Sentencing her, Recorder Stephen Lennard told Tantash: "You are a vicious, manipulative and devious woman."
Prosecutor Ryan Richter told the court Mr Rice and Tantash had a fling in Dublin in 2007.
Despite being together only a few weeks, she insisted he sign a love contract she had drawn up in exchange for her paying off his debts, Mr Richter said.
The agreement included him marrying her within a year, not changing his number and speaking to her by phone every night, the court heard.
When he tried to end things, moving to Brighton for a new job in 2015, she followed him.
Tantash set up 11 email accounts – with addresses including loveyouandmissyousomuch and seemefridaynightibegyou – and would send messages and selfies to Mr Rice, the court heard.
In 2017 he was working at DV8 – a college for vulnerable young people – which Tantash called up to 40 times a day asking for him.
Sometimes she put on an American accent to disguise her voice, Mr Richter told the court.
During an open evening at DV8 in October 2017, Tantash opened a Just Eat account in the college's name and had £200 worth of food sent there.
She also targeted Mr Rice's colleague Sarah Borland, wrongly assuming the pair were romantically involved.
Ms Borland received a string of abusive phone calls and emails containing threats to kill her if she didn't leave Mr Rice alone, the court heard.
'Abusive dismantling'
Tantash also bombarded Mr Rice's family with calls in a bid to contact him telling them Mr Rice owed her 50,000 euros (£44,332).
On another occasion, she told a work associate of Mr Rice to hand over his contact details "for the sake of your children", Mr Richter said.
In a victim impact statement read out in court, Mr Rice said Tantash's behaviour had amounted to "an aggressive and abusive dismantling" of his life.
Life "had become a living nightmare", leading him fear for his family and suffer from depression and suicidal thoughts, he said.
Mr Rice also said he was physically assaulted, and repeatedly moved house to escape Tantash.
In mitigation, Teresa Mulrooney, defending, spoke of the shame Tantash faced and how the news had reached her elderly father in Jordan.
Addressing the judge directly, Tantash said: "I'm happy to leave the UK if you want me to."
After the hearing, Felicity Lineham, from the CPS, said: "Her behaviour was carefully planned to cause maximum distress but all the time she saw nothing wrong with what she was doing or the impact it was having on her victims."