Lost Kubrick screenplay found 60 years on by Bangor professor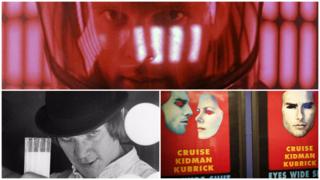 A screenplay by the mastermind behind film classics like 2001: A Space Odyssey and A Clockwork Orange has been uncovered after 60 years.
The script to an unmade film by the late Stanley Kubrick was discovered by a film professor researching a book about the director's last project.
Burning Secret was ditched in the late 1950s, amid suggestions it was too controversial for studio bosses.
Bangor University's Nathan Abrams said the new find was "fantastic".
Prof Abrams was researching Kubrick's last film Eyes Wide Shut, when he came across the missing screenplay.
"The son of a Kubrick collaborator, who wishes to remain anonymous at this time, has shown me a copy," said the professor, who is director of research at the north Wales university's School of Creative Studies and Media.
"It seemingly checks out. It's most likely that said collaborator was going to work on the film had it been green-lit."
The film scholar, who has a special interest in transatlantic Jewish film history, culture and politics, said biographies and archives about Kubrick referred to the screenplay.
"What nobody knew was whether they had actually written a script and finished it – and now we know the answer to that question and we have a complete screenplay," said Prof Abrams.
"Making a new discovery is difficult in this area, even though his archive in London has opened-up – a lot of it is re-interpretational, discovering a document here or there."
Burning Secret was an adaptation of a 1913 novella by the Austrian writer Stefan Zweig, written by Kubrick in 1956 with novelist Calder Willingham.
It tells the story of a suave insurance salesman befriending a 10-year-old boy, so he is able seduce the child's mother.
Prof Abrams said the screenplay takes an original Viennese Jewish novel and translates it to Kubrick's contemporary America.
"I would argue that what we can see draws a direct link between this film, between Lolita, Barry Lyndon, The Shining and culminating in Eyes Wide Shut," said Prof Abrams.
"Elements of this film, although it didn't get made, have fed into his other films.
"We can trace his thought over 40 years."
FILM DIRECTOR STANLEY KUBRICK:
Born in New York in 1928, the director struggled at school, but found his passion in photography, gaining a job as an apprentice at Look magazine when he was 17.
His first foray into film was a short about a boxer in 1951, with his first feature in 1953. His big breakthrough came with the anti-war film Paths of Glory in 1957, starring Kirk Douglas.
FILMS:
Following Paths of Glory, Kubrick was reunited with Kirk Douglas for 1960 epic Spartacus
1962 saw the release of his controversial film Lolita, about a college lecturer infatuated with a young teenage girl
Two years later, a collaboration with Peter Sellers for his darkly comic take on nuclear fears, with Dr Strangelove
In 1968 he released the Oscar winning Arthur C Clarke film, 2001: A Space Odyssey
His 'ultraviolence' film take on the Anthony Burgess novel A Clockwork Orange was withdrawn from cinema screens and video release at the director's request – until 2000, after his death
Regarded by some as an underrated masterpiece, he released the three-hour long Barry Lydon in 1975, about the rise and fall of an 18th Century Irish rogue
Kubrick was responsible for the disturbing Jack Nicholson psycho-thriller The Shining, and gave the Vietnam war his shock treatment in Full Metal Jacket
His last film was the 1999 Nicole Kidman-Tom Cruise Eyes Wide Shut drama examining a couple's fantasies
While born in the US, Kubrick made England his home, where he died in 1999 aged 70, a few months before his last film hit the big screen.
The Burning Secret film project was axed amid speculation of breach of contract when MGM discovered Kubrick was working on the anti-war film Paths of Glory with author Willingham.
Equally – it would have been difficult to get a story of adultery and a child go-between past 1950s studio sensibilities.
Or perhaps it just was not up to scratch? The professor rejects that suggestion.
"He worked on this and he was really excited about this, according to his producing partner at the time, James B Harris", he said.
"It was the studio that nixed the project.
"Was it any good? I mean Stanley thought so, he worked on it.
"It would be fantastic to see this published, maybe with some commentary, and then eventually someone maybe wants to make it."