London plastic campaigner to paddle the Hudson River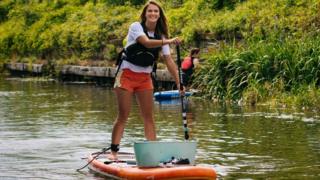 A woman from London is to travel the whole length of the Hudson River in the US on a stand-up paddle board to raise awareness of plastic pollution.
Lizzie Carr will be collecting water samples so microplastic levels in the river can be analysed.
The environmentalist from Croydon said she chose the US for her trip because it was "one of the world's biggest consumers of single use plastic".
She plans to cover 170 miles over eight days starting on Thursday.
The majority of plastic in the US is "only used once before it's thrown away", she said.
Ms Carr, who became the first person to paddle board the length of England solo and unsupported in 2016 after surviving cancer a year earlier, added: "This is a man-made problem.
"80% of marine debris starts from inland sources, including rivers like the Hudson, before it eventually flows out to the ocean.
"I want my journey along the Hudson to motivate people to take action, so together, we can make a real difference to resolve the global problem of plastics choking out seas."
The water samples will be analysed afterwards by the Hudson River Park Trust.
Ms Carr's board will be fitted with a "smart" fin that will measure the water temperature – a move she said would help interpret the impact of global warming.
The data will be collected by a chip in the fin and transmitted to an oceanographic research institute.
Ms Carr, who became the first woman to paddle board solo across the English Channel in 2017, will also be logging plastic waste she sees along the way by geo-tagging it on an an app run by her charity Plastic Patrol.
The adventurer set up the charity earlier this year to encourage people to clean up Britain's waterways.
So far, more than 50,000 plastic hotspots have been logged in 14 countries on the app via crowdsourcing.