Liverpool Echo Arena car park fire disrupts horse show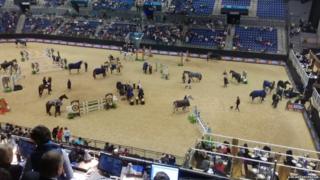 A fire has broken out in a car park next to the Liverpool Echo Arena during an international horse show.
Liverpool Mayor Joe Anderson tweeted that everyone was safe and no animals had been hurt.
He said some horses that were on the first floor of the multi-storey car park had been moved inside the arena.
Merseyside Fire and Rescue Service said 12 engines were at the scene at King's Dock. Merseyside Police said a number of vehicles were on fire.
Mike Quek tweeted that there were "lots of explosions coming from the car park still".
"Driving into #liverpool #arena carpark and told to evacuate as car was on fire. Horses on ground floor. Hopefully everyone is ok," he added.
The fire service said crews were at the scene at just before 17:00 GMT.
Merseyside Police warned people to stay away from the area, adding that travel restrictions were in place.
The Liverpool International Horse Show has been running at the arena since 28 December.
On the show's Facebook page, organisers said it was with "considerable regret" that it had decided to cancel the evening show due to the fire.
It added: "All people and horses are safe and secure, and show organisers have thanked spectators, riders and support teams for their understanding and co-operation during this ongoing situation.
"The possibility of rescheduling the show for tomorrow (Monday) is currently being reviewed."