Leicester Forest East services closed 'due to gas leak'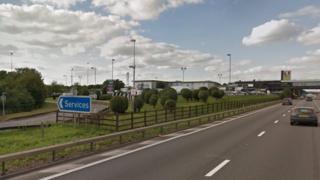 A service station on the M1 was evacuated for several hours due to a gas leak from cylinders stored on site.
The leak at the northbound Leicester Forest East services was discovered shortly after 07:00 BST.
The fire service said a propane cylinder alarm was sounding and there was a smell of gas in the area.
People and vehicles at the Days Inn hotel were moved to the southbound services.
The southbound service station was itself temporarily evacuated but has since reopened.
National Grid and gas engineers were also called to work on the site, which fully reopened at about 11:00.