Irish passport applications from British applicants skyrocket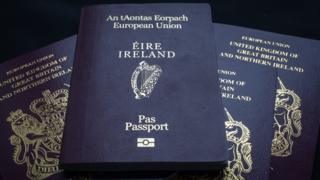 The number of British applications for an Irish passport has boomed following the UK's vote to leave the European Union.
Some UK residents are entitled to an Irish passport if their parents or grandparents were born in Ireland.
In 2015, the year before the Brexit vote, more than 46,000 applications were lodged from Britain – excluding Northern Ireland.
By the end of 2017 that number had nearly doubled to 81,000.
London's Irish embassy has issued more than 176,000 since 2016 – more than 10 times that of any other office.
Citizens of the Republic of Ireland, an EU member state, will retain visa-free travel benefits after Brexit, no matter the outcome of the UK's negotiations with the EU.
In the first five months of this year, almost 45,000 British people had requested an Irish passport, according to figures from Neale Richmond, Chair of the Irish Senate's Brexit committee.
Mr Richmond said embassy staff were expecting 2018 to be the busiest year ever.
Each application for a standard 10-year passport costs €80 (£71).
Can I get an Irish passport?
You can claim an Irish passport (or Irish citizenship) if:
You were born in the Republic of Ireland or Northern Ireland before 1 January 2005
You were born in Ireland after that date but your parents were British or Irish citizens
Your parents or grandparents were Irish citizens born in Ireland, even though you were born elsewhere
Several other exemptions apply for those resident in Ireland for extended periods, adoptions, children of refugees, and other special circumstances.
There has also been a surge in applications from Northern Ireland, where most UK citizens are automatically entitled to an Irish passport if they so wish.
Senator Richmond's figures show that applications from there grew from 53,715 in 2015 to 82,274 in 2017.
Excluding Northern Ireland, Mr Richmond said at least 10% of Britain's population were thought to qualify for an Irish passport.
"In light of Brexit many including a number of my own family members are staking their claim," he said – and "there is no sign of this rush for Irish passports abating."