Hunt for 'callous' biker who 'mowed down' boy, aged six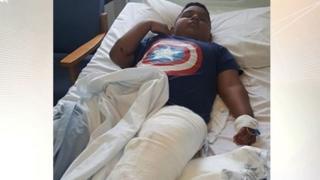 An appeal to find a "callous off-road biker" who "mowed down" a six-year-old boy in Birmingham has begun.
Mikaeel Miah was with his dad and eight-month-old sibling when he was hit by a scrambler bike in Burbury Park, Lozells, at 17:30 BST last Saturday.
The boy was "flipped in the air" and has been left with a compound leg fracture, West Midlands Police said.
Mikaeel required emergency surgery to put metal plates and pins into his leg.
His father, Farouk, has been warned there is a chance his son could suffer permanent mobility difficulties as a result of the collision.
The biker was racing in circuits around the park when Mikaeel was hit and left in "agony" as the "callous offender sped off".
Sgt Martin Williams said police suspected the biker, who was wearing a green helmet, was from the local area and the bike, which had orange parts, was believed to be a scrambler or pit-bike.
"This is a truly callous offence: a man, or possibly a teenager, riding a bike recklessly in a public park has knocked down a little boy and left him with very serious injuries," he said.
"It's hard to imagine what kind of person would do this and then drive off, leaving the boy writhing in agony on the floor."
Sgt Williams said the force believes the person responsible is local to Lozells and asked people to "do the right thing" and contact police with any information.
"The offender does not deserve any protection; we need to find him as he is clearly a risk to children in the area," he said.