Grand Canyon fatal helicopter crash 'was preventable'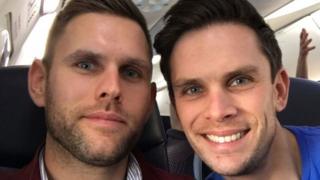 A helicopter crash in the Grand Canyon which killed five people was survivable and preventable, an inquest has heard.
Two brothers from West Sussex, the girlfriend of one of them and a newly married couple from Brighton died when their helicopter crashed in February.
A lawyer for the families of four of them told a preliminary hearing lives of future helicopter passengers were at risk unless safety measures were taken.
West Sussex coroner Penelope Schofield adjourned the hearing until 6 March.
Rebecca Dobson, 27, her boyfriend Stuart Hill, 30, and his brother Jason, 32, from Worthing, were killed when the Airbus EC130 B4 crashed on 10 February.
Newlyweds Jonathan, 31, and Eleanor Udall, 29, died in hospital a few days later.
A sixth passenger, Jason Hill's partner Jenny Dorricott, and pilot Scott Booth both survived but suffered life-threatening injuries, the hearing in Crawley was told.
Mr Udall's parents, Philip and Marlene Udall, are suing tour operator Papillon and aircraft manufacturer Airbus Helicopters, claiming they were negligent for not using a crash-resistant fuel tank.
James Healy-Pratt, who represents all the families except that of Mr Udall, told the inquest hearing: "This accident was survivable. This accident was preventable.
"Further and future innocent lives are at risk without adequate crash-resistant fuel systems."
Mr Healy-Pratt cited an article in the Wall Street Journal in August, which said lives continued to be at risk in flights where crash-resistant fuel systems had not been not installed.
He added the article "shone a light on a problem known within the helicopter industry for over 20 years".
"A helicopter can crash and if the fuel system is not robust enough, people will burn to death and that is what has happened over the past 20 years."
After the crash, Papillon announced it would fit 40 of the crash-resistant tanks to its fleet.
Airbus previously said it was increasing the number of aircraft built with crash-resistant fuel system.
Coroner Ms Schofield said both Airbus Helicopters and the Civil Aviation Authority would be invited to attend the full inquest, which is scheduled to start in September.