Gayle Newland: Sex attacker who posed as man found guilty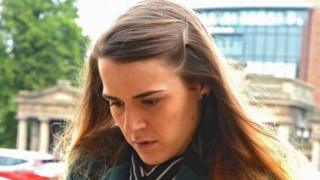 A woman has been convicted of impersonating a man for more than two years in an "astonishing deception" to trick her female friend into sex.
Gayle Newland, 27, of Willaston, Cheshire, created a "disturbingly complex" online persona to achieve her own "bizarre sexual satisfaction".
A retrial jury at Manchester Crown Court found her guilty of committing sexual assault by using a prosthetic penis without her victim's consent.