Forced marriage: 'More needs to be done', says Sajid Javid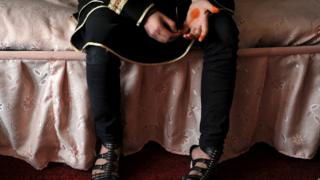 Home Secretary Sajid Javid has promised to do more to prevent forced marriages after charities warned the government was failing to protect women and girls.
Officials have been accused of letting too many abusive marriages go unchallenged.
Almost half of the 88 visa applications objected to on forced marriage grounds last year were approved.
Mr Javid said forced marriage was a "despicable, inhumane, uncivilised practice".
Figures obtained under Freedom of Information laws by The Times showed that the Home Office had received 175 inquiries about trying to block spouses' visas last year.
Of those, 88 became full cases – with objections coming directly from victims, from third parties, and from officials who suspect a forced marriage.
Visas were issued in 42 of the cases, while 10 are still pending or on appeal.
Mr Javid said: "We will be doing more to combat it and support victims.
"Those who force British women into marriage, be warned that we are redoubling our efforts to make sure you pay for your crimes."
The cases examined by the Home Office involved women forced to marry men in countries including Pakistan, India, Bangladesh and the United Arab Emirates.
Charities working with forced marriage victims said that women and girls were at risk in cases where authorities took no action.
'A blind eye'
Aneeta Prem, founder of Freedom, which aims to protect children from forced marriages and other forms of abuse, said she had seen "a number of cases like this and they go unchallenged".
"The girls are physically and sexually abused by the men that come over," she said.
Jasvinder Sanghera, founder of Karma Nirvana, which also supports forced marriage victims, told The Times: "Even when officials know it's a forced marriage, they see tradition, culture or religion and they're reticent to deal with it. They are turning a blind eye."
The Home Office said it "categorically denies" the suggestion that culture or religion affects the outcome of cases. In some cases, inquiries demonstrated that no further action was necessary, it said.
A spokeswoman said: "We take our safeguarding responsibilities very seriously. If an individual refuses to act as the sponsor for a visa application then under the immigration rules, that visa should not be issued."
'Not racist'
Naz Shah, shadow secretary of state for women and equalities, said the situation seemed "alarming".
"There is nothing racist about highlighting the fact that a girl is being forced into a marriage, or protecting that victim," she said.
Laws against forced marriage were introduced in England and Wales in 2014, with a maximum sentence of seven years.
Police were also given powers to issue Forced Marriage Protection Orders, which can impose restrictions and requirements on anyone involved in order to prevent the marriage taking place or to protect the victim.
Breaching the orders is punishable by up to five years in prison.
Since 2013, the number of people given help or support by the Home Office's Forced Marriages Unit has fallen from more than 1,300 to 1,196.
But Mr Javid said that "more needs to be done" on the issue.