'Failing' free school shuts after four years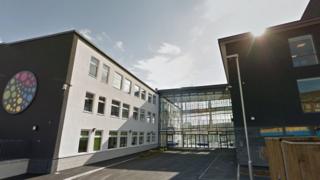 A free school costing £9m is to close just four years after opening.
Newcastle Council confirmed the Discovery School in Newcastle would close after the government pulled the plug on its funding when it failed an Ofsted inspection.
Earlier this month the school was accepting pupils on to its register for September and parents were only told on Tuesday it would shut on 31 August.
A spokesman said the closure would "be for the best" in the long term.
The school, which opened in 2014 and teaches a specialist science, technology, engineering and maths (STEM) curriculum, had been funded directly from the government.
It has the capacity for 700 students but only has 218 on its roll.
The Department for Education has been contacted for a comment.
'Simply not working'
In July 2017 Ofsted inspectors said it was "failing to meet pupils' needs".
A spokesman for the school said: "We regret this is the outcome but it is clear the school is simply not working for students, parents and staff.
"We realise this will be upsetting for pupils, parents and for staff who will be made redundant.
"However we cannot allow the situation to continue and believe that in the long term this will be for the best."
He added staff would work to find pupils alternative places.
'Great strain'
The Ofsted report found the school to be inadequate with "serious weaknesses" but a further inspection in December last year found "effective actions" were being taken to improve the school.
Chi Onwurah, MP for Newcastle Central, said: "I am very disappointed to learn of the closure.
"I visited the school two years ago and was impressed by the commitment of both staff and students to learning.
"I have been assured that students taking exams will not be affected, but I realise this will place a great strain on them and everyone in the school."