Downing Street sets out some details of new Brexit customs plan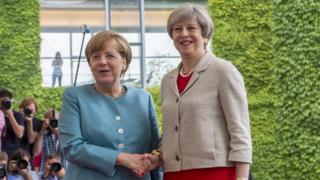 Downing Street has set out some detail for how customs could be handled after Brexit.
No 10 says its plan – dubbed the "facilitated customs arrangement" – offers "the best of both worlds".
The details come as Theresa May and Angela Merkel prepare to discuss the progress of Brexit negotiations when they hold talks in Berlin later.
The UK prime minister is facing calls from the EU to clarify the UK's position.
According to Number 10, the new plan would allow the UK the freedom to set its own tariffs on goods arriving into the country.
Technology would be used to determine beforehand where they will ultimately end up – and therefore whether UK or EU tariffs should be paid.
Downing Street says it's confident the arrangement would be partly in place by the end of the proposed transition period in December 2020 – with the system being fully operational by the next general election.
On regulations, it's understood that the UK would closely mirror the EU's rules – but parliament would be able to decide where to deviate.
However, the arrangement has not yet been explained in full – and it is not clear whether the cabinet will back the plan, or whether the EU would sign up to it.
A source close to Brexit Secretary David Davis refused to comment on a Daily Telegraph report that he had already told Theresa May the plan is unworkable.
Mr Davis and Mrs May are "working closely on what will be presented on Friday", the source said.
The UK is leaving the EU in March 2019, but has yet to agree how it will trade with the remaining EU members – who are part of a single market and a customs union.
In particular, a solution is needed to avoid new border checks between Northern Ireland and the Republic when the UK is outside the customs union.
Eurosceptic MPs have warned Mrs May against tying the UK to the EU after it leaves, saying this will prevent it from striking its own trade deals with other countries.
After two models for customs were criticised, Downing Street has come up with a "third way" solution, to be presented to the cabinet when it gathers at Chequers on Friday.
After Friday's meeting, the government is expected to publish a White Paper setting out its plans in detail.
Will Merkel be sympathetic?
BBC Berlin correspondent Jenny Hill
Mrs May is on a mission to reassure her European allies. But talks earlier this week with the Dutch prime minister did little to allay concern over the slow pace of Brexit negotiations.
And few in Berlin expect much more from today's meeting with Angela Merkel. German business and industry leaders are particularly worried about the impact of an important trading partner leaving the EU with no deal in place.
It's thought Mrs May might run an as-yet unpublished proposal for a post-Brexit customs arrangement past Mrs Merkel before it's discussed at a meeting of British ministers on Friday.
She might not find the German chancellor on sympathetic form. Mrs Merkel – herself preoccupied with a domestic row over migration – has repeatedly warned Britain it can't cherry pick the terms of its exit.
Speaking on the BBC's Daily Politics on Wednesday, leading Conservative Eurosceptic Jacob Rees-Mogg hit out at suggestions the new arrangement could, in a bid to ensure smooth trading, involve a single market on goods with the EU and close alignment with its regulations.
Mr Rees-Mogg, who leads the pro-Brexit European Research Group of Tory MPs, said this would be a "really foolish policy" and "would not be a sensible way to run our economy after we've left the EU", adding: "I won't be reassured until I know the details of what comes out of Friday one way or the other."
In an attempt to address concerns, Mrs May said at Prime Minister's Questions the government would ensure "we are out of the customs union, that we are out of the single market, that we are out of the jurisdiction of the European Court of Justice, we are out of the Common Agricultural Policy, we are out of the Common Fisheries Policy, we bring an end to free movement, we take control of our borders, we have an independent trade policy".