Double murder probe after two women die in Hadlow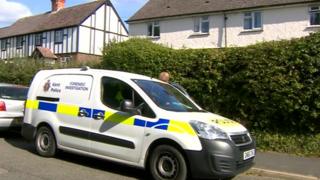 Two women have been found dead in Kent, sparking a double murder investigation.
Kent Police said the women, who were in their 50s and 70s, died at the scene of an incident in Hadlow, near Tonbridge.
A man in his 70s was also taken to a London hospital with serious injuries from the address in Carpenters Lane on Saturday morning.
A 28-year-old man has been arrested on suspicion of murder and is in custody while inquiries continue, Kent Police said.
It is believed the victims and the suspect all knew each other, he added.
The families of those who died have been told, he said.
Villagers 'left rocked'
Neighbours have spoken of their shock after emergency services, large numbers of police and forensic teams arrived in their village.
Sophie Moorey-Brown, 31, said: "The first we knew about it was when there was an air ambulance very low over the houses.
"There was a heavy police presence and forensic teams.
"We are very shocked and saddened by what we have heard and are trying to shield our boys from hearing too much."
And she added: "It is such an awful thing to hear anywhere, but in our lovely, friendly little village it's bound to rock us residents even more so."