Critically ill man is former Russian spy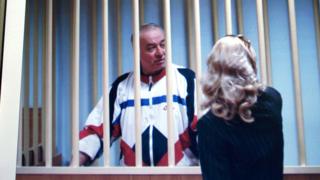 A man who is critically ill after being exposed to an unknown substance in Wiltshire is a Russian national convicted of spying for Britain, the BBC understands.
Sergei Skripal, who is 66, was granted refuge in the UK following a "spy swap" between the US and Russia in 2010.
Police declared a major incident on Sunday after he and a woman became ill at a shopping centre in Salisbury.
The substance has not been identified.
Police are investigating whether a crime has been committed, following the incident which began at 16:15 GMT on Sunday at the Maltings shopping centre in central Salisbury.
Col Skripal, who is a retired Russian military intelligence colonel, was jailed for 13 years in 2006 for spying for Britain.
He was convicted of passing the identities of Russian intelligence agents working undercover in Europe to the UK's Secret Intelligence Service, MI6.
Russia said Col Skripal had been paid $100,000 for the information, which he had been supplying from the 1990s.
He was one of four prisoners released by Moscow in exchange for 10 US spies in 2010, as part of a swap. Col Skripal was later flown to the UK.
He and a woman, aged in her 30s, are both in intensive care at Salisbury District Hospital.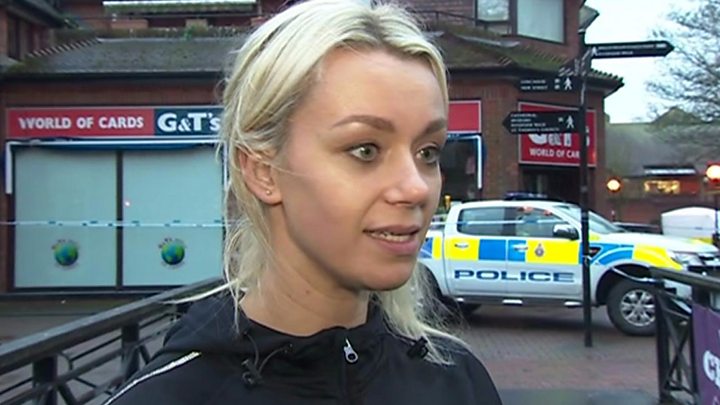 A number of locations in the city centre were cordoned off and the A&E department was closed as teams in full protective gear used hoses to decontaminate the street.
Neighbours at Sergei Skripal's home in Salisbury say police arrived around 17:00 GMT on Sunday and have been there ever since.
They said he was friendly and in recent years had lost his wife.
One female eyewitness told the BBC it looked like the two people had taken "something quite strong".
She said: "On the bench there was a couple, an older guy and a younger girl. She was sort of leant in on him, it looked like she had passed out maybe.
"He was doing some strange hand movements, looking up to the sky."
In a statement on Monday evening, Wiltshire Police said the pair had no visible injuries but were found unconscious.
Temporary Assistant Chief Constable Craig Holden said: "Because we are still at the very early stages of the investigation, we are unable to ascertain whether or not a crime has taken place."
The force is appealing for anyone with information to call them immediately on 999, adding officers do not believe there is any risk to the wider public.
Public Health England said in an updated statement that its specialists would be joining a "specially-convened group" to consider the Salisbury incident.
What were the charges against Col Skripal?
Col Skripal was convicted of "high treason in the form of espionage" by Moscow's military court in August 2006. He was stripped off all his titles and awards.
He was alleged by the Russian security service (FSB) to have begun working for the British secret services while serving in the army in the 1990s.
He had been passing information classified as state secrets and been paid for the work by MI6, the FSB claimed.
Col Skripal pleaded guilty at his trial and co-operated with investigators, reports said at the time.
Were you in the area at the time? Have you been affected by the incident? You can share your experience by emailing haveyoursay@bbc.co.uk.
Please include a contact number if you are willing to speak to a BBC journalist. You can also contact us in the following ways:
You can receive Breaking News on a smartphone or tablet via the BBC News App. You can also follow @BBCBreaking on Twitter to get the latest alerts.