Coventry hit-and-run sentence 'too lenient' says charity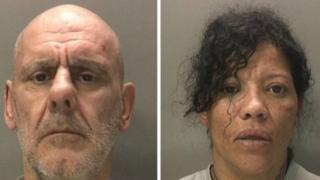 The prison sentence for a driver who caused the death of two young brothers while high on cocaine is "too lenient", a road safety charity has said.
Corey, six, and Casper Platt-May, two, were on their way to a park in Coventry when they were struck by a car.
Robert Brown, 53, of Attwood Crescent, Wyken, admitted two counts of causing death by dangerous driving, and was given nine years in prison.
The road safety charity Brake described the sentence as an "injustice".
Joshua Harris, director of campaigns for the charity, said no sentence would bring the boys back but justice was vital.
"However, justice appears all too lenient in this case," he said.
He urged the court to use the full extent of the law for such crimes.
"We urge the government to bring in tougher sentences for drivers who kill. Such measures were announced six months ago and are still to be implemented – the failure has led to injustices like this."
The boys' mother, Louise Platt-May, said she did not blame the judge that Brown had "got off lightly", and called on the government to deliver on promises to introduce stiffer penalties.
The government has said those who cause death by dangerous driving could face sentences equivalent to manslaughter, with maximum penalties raised from 14 years to life.
The Crown Prosecution Service has not yet said whether it will mount an appeal, while the Attorney General's office confirmed it had not received a request to investigate.
Gwendoline Harrison, 42, of Triumph Close, Wyken, who was a passenger in the car, admitted a charge of assault intending to resist arrest after striking a member of the public, and received a six-month sentence.
Warwick Crown Court heard how the pair attempted to flee the scene on Macdonald Road, after crashing into the boys on 22 February.