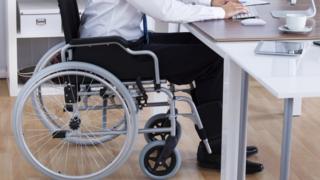 The government had vowed to help one million disabled people into work over the next decade. But for many people, the challenges of work begin before they even get to the office.
The commute to work can be a battle for millions. However, for people with disabilities, transport inaccessibility can make the struggle even harder.
Wheelchair user Yaragael Drouet lives in Haggerston, east London. He works in Brixton, in south London – a commute of less than six miles (9.6km).
Yet he says the fact he uses a wheelchair adds another 80 minutes to his daily journey.
"Able-bodied people can get London Overground [trains] to Highbury and Islington railway station and then take the Victoria Line," he explains.
"But that's not currently accessible, so my route gets incredibly complicated."
Restricted to stations that are accessible to wheelchair users, Mr Drouet, 42, instead has to set off in the opposite direction, towards Canada Water.
There, he changes lines and travels to Green Park, where he is able to get on the Victoria Line and finally head towards Brixton.
This journey can be even longer if there are added complications.
"This morning the lift to the inbound platform at Haggerston wasn't working, so I was told to take the train backwards to board at another accessible station.
"It's really hard to cope with every day," he adds.
Of London Underground's 270 tube stations, only 71 are accessible by wheelchair from street to platform level.
Transport for London has said it is committed to making more than 30 additional tube stations step-free by 2022.
However, such challenges currently make the underground an impossibility for large numbers of disabled people.
'Lifeline' schemes
The government says in the past four years 600,000 disabled people have found work, despite the employment challenges they face.
This is in part due to the Access to Work initiative, which provides means-tested workplace support to disabled people – including transport grants.
For many this has become a "lifeline".
Edith Solenne, 30, uses a wheelchair having been diagnosed with multiple sclerosis at the age of 16.
Through the scheme, she has been able to claim taxis to and from work at Tesco, in Welwyn Garden City, Hertfordshire, from her home 14 miles (22.5km) away in Hitchin.
"It is my only option, because my fatigue means that I cannot physically drive myself or take a train," she says.
"The lack of an online submission system means lots of paperwork and I sometimes miss my meetings first thing as any delays in carers or cabs mean I'm late, but it's out of my control.
"Often I feel like once I'm in work I can relax and my day gets easier."
According to government figures, £103.9m was spent on the Access to Work scheme in 2016-17, helping about 25,000 people across England, Scotland and Wales.
But despite the positive benefits, since 2015 new claimants have had the money they can receive each year capped at around £41,000 – 1.5 times the UK's average salary.
From April 2018, this will affect existing claimants too.
Last month, claimants told the BBC's Victoria Derbyshire programme the proposals left them feeling "terrified" about the future.
'Fight' for help
This fear is especially true for disabled residents outside London.
In the capital, all black cabs have ramps fitted as standard, as do an increasing number of Uber vehicles.
London boroughs also run a Taxicard scheme allowing disabled or mobility impaired people to make a certain number of discounted swipes per year to help reduce costs.
For 20-year-old Charlotte Cann, who lives in Lincolnshire, there is no such safety net.
As she begins looking for work while living with myalgic encephalomyelitis and fibromyalgia – conditions that attack her immune and nervous system – the prospect of cuts to Access to Work leave her feeling helpless.
"As my conditions don't have much known about them, I would have to fight to get help from them, as I do for every benefit review," she says.
"I would also struggle getting a wheelchair accessible vehicle to take me, and most companies would want to avoid the extra cost that incurs.
"Many companies seemingly aren't willing to pay extra for taxi costs for a disabled person, for example."
Ms Cann says there is only one accessible taxi service near her. Other disability services such as Dial-A-Ride are lacking volunteers.
This leaves her needing to rely on her partner to push her or assist her into a standard taxi – a far cry from independence.
Despite these challenges, she harbours hopes of becoming a journalist.
"I'd love to be a writer or do something to do with my disabilities, like writing articles or working with a disability charity," she said.
"It's also such a financial risk to come off benefits. I've been looking for ages but nothing long-term has come up yet."