Church 'colluded' with sex abuse bishop Peter Ball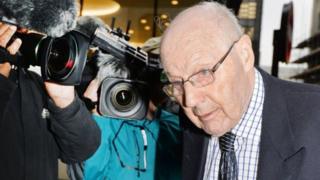 Senior figures in the Church of England "colluded" with a former bishop who abused young men, an independent review has found.
Peter Ball, 85, was jailed for 32 months in October 2015 after admitting sex offences against 18 teenagers and young men.
The ex-bishop of Lewes and bishop of Gloucester used "religion as a cloak" to carry out the abuse.
Dame Moira Gibb's review criticises ex-Archbishop of Canterbury, Lord Carey.
He has been asked to step down from his position as an honorary assistant bishop by the current archbishop, Justin Welby.
Dame Moira, a former senior social worker, said there was a failure of the Church to respond appropriately to misconduct over a period of many years.
Ball carried out the abuse between the 1970s and 1990s.
He was released from jail in February after serving 16 months.