Boy, eight, creates Santa's grotto to help hospital that saved his brother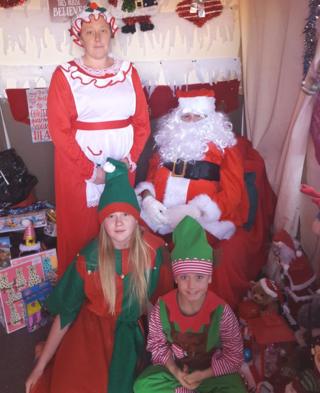 An eight-year-old boy has created a Santa's grotto to fundraise for children who have to spend Christmas in hospital.
Billy Cook from Jaywick in Essex will open his grotto on Saturday.
Entry is free but there will be a donation box and funds raised will go to the Brompton Fountain that helps young patients to celebrate Christmas.
His mother Danell said he wanted to help because his younger brother Sonny Lee spent last Christmas in hospital.
Two-year-old Sonny Lee has congenital heart disease and more than £10,000 raised by his family since he was born has been donated to the Royal Brompton Hospital that treated him.
This year he is due to spend Christmas at home. His mother Danell and aunt Sarah Jane Mole have praised Billy's fundraising efforts.
"It's fantastic that a boy so young has done so much.
"It was upsetting for all the family when Sonny Lee was born and dealing with it has been a hard journey but they have taken it well.
"This was Billy's idea to pay something back. His sister Bobbie Jean is the leading fundraiser in the family," his mother said.
"Billy's first idea was to put up Christmas decorations and ask for donations, but he wanted to take it a step further and built a winter wonderland in his nan's shed," his aunt added.
"There is a donation box and people have already started giving him children's toys and money."
The grotto opens in Brooklands Gardens in Jaywick at 17:00 GMT and the house is lit up with Christmas decorations.
All the family have joined in dressing as Santa, Mother Santa, elves and helpers.