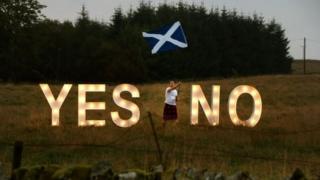 Two important questions arise from Nicola Sturgeon's announcement that she will now ask the Scottish Parliament to submit to the UK Parliament a request for the authority to hold a second referendum on independence in autumn 2018 or spring 2019.
First, do voters in Scotland want a second referendum? And second, how might they vote if an independence referendum were to be held any time soon?
During recent months, a number of polls have asked people in a variety of different ways whether there should be a second independence referendum within the next couple of years.
They have all obtained much the same answer. Around a half say there should not be, while between a third and two-fifths say there should.
Most recently, for example, a poll conducted by BMG Research published in Monday's Herald newspaper found that 39% believe that another referendum should be held prior to the conclusion of the Brexit negotiations, while 49% are opposed to the idea.
People's opinions on the subject tend to depend on their views on the merits of independence in the first place.
Around four in five of those who want Scotland to remain part of the UK oppose having a second referendum within the next couple of years, while around two-thirds of those who back independence would like a ballot to be held soon.
It is the apparent lack of enthusiasm for a second referendum amongst some supporters that is the main reason why opponents of an early second ballot are apparently in the majority.
But that does not mean that most voters think that another ballot should not be held for "another generation".
Polling conducted by Panelbase for The Sunday Times has found that half of voters either think a referendum should be held during the Brexit negotiations (as the first minister appears to have in mind) or that one should be held once the negotiations have been concluded (that is, just a little later than Ms Sturgeon's proposed timetable).
They counterbalance exactly the other half of Scotland which says that a poll should not be held at any point within the next few years.
'Big gamble'
So this polling suggests that Scotland is evenly divided on the principle of having a relatively early second ballot. In short, both sides in the debate about whether a second referendum should be held can find polling evidence that seemingly bolsters their case.
In the first independence referendum held in September 2014, 55% of Scots voted to stay in the UK, while 45% supported independence. But how might Scotland vote a second time around?
To date, five polls have been conducted since in mid-January Prime Minister Theresa May outlined her vision of the kind of Brexit deal that the UK should seek in the forthcoming negotiations with the EU.
Once those who said 'Don't Know' are put to one side, these polls have on average reported that 48% say they would vote 'Yes' to independence, while 52% say they would vote 'No'.
So the two sides look as though they are more evenly matched than they eventually proved to be two and a half years ago.
Still, Ms Sturgeon is seemingly taking a big gamble in calling for a second independence referendum. It is far from certain that she will win. But equally Mrs May cannot presume that the first minister is bound to lose.
Expect an intense and strongly-fought battle if Scotland does indeed go to the polls once again any time soon.